This expansion–the largest in ATI's 28-year history–will increase the size of its Apex facility to 185,000 square feet.
APEX, N.C. April 13, 2017 -- ATI Industrial Automation will break ground on the expansion of its corporate and manufacturing headquarters in Apex, NC, on Friday, April 21, at 4:00 PM. This expansion-the largest in ATI's 28-year history-will increase the size of its Apex facility to 185,000 square feet. "Global demand for our robotic end-effectors continues to grow," said ATI Chairman Keith Morris. "This latest major expansion, our second in just four years, will help us to meet the growing needs of our worldwide client base."

ATI formed in 1989 as the brainchild of engineers Keith Morris, Chairman; Robert Little, CEO; and Dwayne Perry, Chief Sensor Technologist. The firm has grown from a small team with a tiny office in Garner, NC, to a global work force of 300 employee-owners. Corporate and manufacturing headquarters are located in Apex, NC, but ATI has added business offices in Michigan, China, Mexico, and Brazil to better serve its ever-growing customer network.
In its short history, ATI has established a reputation for superior quality and service throughout the world. The driving force behind its success is an expansive mechanical, electrical, and software engineering team alongside skilled support and manufacturing staff. The new addition will increase the size of the engineering, warehouse, and production floor areas, and will be staffed by 275 new employees. For ATI customers, the expansion means quicker turnaround of new designs, increased production capacities to keep lead times short, and even more of the consistently exceptional service and support they depend on. The expansion gives way to a new engineering and robotic lab for creative development of superior end effectors. Continuous improvement and on-time delivery are key aspects of ATI's business philosophy; the new expansion is simply the next step in anticipating customer needs.
ATI's robotic end-effector products optimize industrial applications in fields such as Robotics, Aerospace, Biomedical, Automotive, Electronics, Applied Research, Academics, Nuclear and Government. CEO Robert Little credits the company's strong growth to the array of unique customer applications that ATI serves. Little explains, "This diversity in our customer base, coupled with our focus on engineering innovation and customer service, has allowed us to succeed despite a fluctuating global economy and lower-cost overseas competition. In fact, nearly 50 percent of our sales are exported to world markets. We've created 150 new jobs since 2012, and this new expansion will create an additional 275."
ATI was selected for the Progressive Manufacturing 100 Award, which recognizes best-in-class manufacturers from the US and abroad, in 2009 and 2011 as well. The company was also named to the Deloitte Technology Fast 50 Program for North Carolina a record 10 times; Fast 50 is a ranking of the fastest growing technology companies in the state. ATI has also been awarded numerous patents for product innovations and improvements over the years.
ATI Industrial Automation is the world's leading engineering-based developer of robotic accessories and robot arm tooling including Robotic Tool Changers, Multi-Axis Force/Torque Sensing Systems, Utility Couplers, Manual Tool Changers, Robotic Deburring Tools, Robotic Collision Sensors and Compliance Devices. Their robotic end-effector products are found in thousands of applications around the world. Manufactured entirely in the USA, ATI products enable customers to achieve a high level of flexibility in robotic automation. Their flagship product is the Robotic Tool Changer, a robotic wrist coupling that locks and unlocks automatically, allowing a single robot to perform many different tasks. ATI products can be found at some of the world's most renowned corporations and organizations including NASA, Ford, Honda and Johns Hopkins University. For more information, visit ATI at: www.ati-ia.com.
Featured Product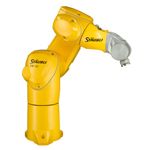 Stäubli offers a complete range of robotic tool changing systems for payloads of 20 kg to 1,530 kg and torsion moments from 30 to 12,500 Nm, designed for use in virtually every industry. The tool changers adapt to customer-specific applications with different modules for media, data, power, etc. The new MPS 130 robotic tool changer is powerful, very robust, and designed for a huge range of applications. It features multiple couplings for air/vacuum connections, and can be equipped with connectors for data and electrical transmission. Very compact dimensions, with a coupled height of only 67 mm, make the MPS 130 the first choice for applications requiring a high number of mating cycles.