UAV Industry Leader will Demonstrate DroneOSS solutions
ANRA Technologies, an industry-leading provider of off-the-shelf commercial drone platforms and services, will demonstrate exciting new resources in drone-related mission, data and traffic management at AUVSI's XPONENTIAL 2017, May 8-11 at the Kay Bailey Hutchinson Convention Center in Dallas, Texas. The expo is billed as the "largest global community of leaders in drones, intelligent robotics and unmanned systems."

ANRA CEO Amit Ganjoo says the company's mission during the convention is to educate drone professionals about the "3 Pillars of Commercial Drone Applications" - Mission Management, Data Management and Traffic Management.
"The upcoming issues in UAV tech are not about the drones by themselves anymore but the ecosystem, support systems and technologies needed for mission management, safe UAS introduction into the national airspace and data handling as well as security," Ganjoo said.
According to PricewaterhouseCoopers, the global commercial drone sector will explode from the current value estimate of $2 billion up to $127 billion by 2020.
As the drone community grows and expands across multiple commercial sectors, the industry faces the challenge of providing end-to-end, open commercial platforms that address the "3 Pillars" across all sectors.
MISSION MANAGEMENT
Mission-management solutions must rely on autonomous missions that can be powered using an operational platform like DroneOSS™, Ganjoo stated in a recent blog post, pointing out that "effective platforms will enable quick inspections, surveys and enable secure data images and video footage capture."
"Missions need to be planned such that the flight plan eliminates and mitigates most risk factors and accounts for constraints such as airspace, weather, and performance characteristics," Ganjoo added. ANRA will present several such solutions at XPONENTIAL 2017 focusing on real-time flight planning, autonomous or manual missions, contingency operations, automated data collection, security and compliance.
DATA MANAGEMENT
ANRA will also present several resources to drone-industry leaders concerning data management to include data processing/analysis tools for generating datasets like orthomosaics, 3D Models, digital surface models and many more.
"Drone-gathered data is useless without the proper analysis," Ganjoo said, adding that platforms going forward must optimize collaboration and data sharing over multiple locations - either publicly or privately. "With dynamic data management systems, key personnel can share/collaborate leveraging images, video and other data across several platforms including web browsers and smart devices."
TRAFFIC MANAGEMENT
ANRA has long been a key player in the drone traffic-management arena. Currently, the DC-based company partners with NASA and other drone-industry leaders in the Unmanned Aircraft System Traffic Management, a project with the goal of creating an independent, self-directed and scalable system that will manage and monitor the drones and their flights.
"One of the 'must-have' attributes of a successful UTM is that it should not require human operators to monitor every vehicle continuously," Ganjoo said. "Such a system is simply not a scalable architecture given the sheer number of unmanned assets that will be in our airspace over the next few years."
For more information about ANRA Technologies, visit anratechnologies.com.
ANRA staff and management will be on hand at XPONENTIAL Booth # 2440. Attendees may schedule a time slot for a demonstration of ANRA's DroneOSS™ Platform by calling 703.239.3206.
Featured Product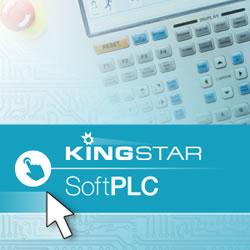 The top machine builders are switching from proprietary hardware-based PLCs, like Allen-Bradley, TwinCAT, Mitsubishi and KEYENCE, to open standards-based EtherCAT-enabled software PLCs on IPCs. KINGSTAR provides a fully-featured and integrated software PLC based on an open and accessible RTOS. KINGSTAR Soft PLC also includes add-on or third-party components for motion control and machine vision that are managed by a rich user interface for C++ programmers and non-developers alike.