BitFlow frame grabber used in location finder system
WOBURN, MA, JUNE 21, 2017 -- BitFlow, Inc., a global innovator of frame grabbers for industrial, scientific and military vision systems, today announced it will sponsor the Purdue University Hyperloop team for a second year as it competes in Hyperloop Pod Competition II. The Purdue team made a solid showing at the first Hyperloop competition this January in held at SpaceX headquarters in Hawthorne, CA, finishing 7th out of a field of 27 universities. The team spent the Spring semester refining its original pod in preparation for the second competition set for August 25-27, 2017.

"We are proud to again sponsor Purdue's team as they tackle one of most challenging engineering problems facing the world: developing a high-speed transportation system that is safe, extremely fuel efficient and has little or no impact on the environment," said Donal Waide, Director of Sales & Marketing for BitFlow. "Hyperloop competition is an invaluable experience for students to jump into a major engineering project and make a lasting contribution to its success."
As it did in the first generation of its pod, the Purdue will be incorporating a BitFlow Axion-CL™ Camera Link frame grabber as part of a high resolution video-based location finder. The frame grabber greatly simplifies the multiple camera set-up by appearing in software as two completely independent frame grabbers, rather than a single unit.
Aimed at university students, the Hyperloop Pod Competition was created to find the best, fastest pod design for a Hyperloop transportation system. The primary goal of the Hyperloop Pod Competition is to produce a fail-safe, passenger-friendly, scalable prototype that successfully levitates throughout the length of the track. Envisioned by SpaceX founder Elon Musk, the Hyperloop would be a mode of transportation that would propel passengers and/or cargo in a pod-like vehicle through a near-vacuum tube.
For more information about the Purdue Hyperloop Team visit www.purdue.edu/hyperloop. To learn more about BitFlow frame grabbers, call 781-932-2900 or visit www.bitflow.com.
About BitFlow
BitFlow has been developing reliable, high-performance Frame Grabbers for use in imaging applications since 1993. BitFlow is the leader in Camera Link frame grabbers, building the fastest frame grabbers in the world, with the highest camera/frame grabber densities, triggering performance, and price. With thousands of boards installed throughout the world, into hundreds of imaging applications, BitFlow is dedicated to using this knowledge and experience to provide customers with the best possible image acquisition and application development solutions. BitFlow, located in Woburn, MA, has distributors and resellers located all over the world including Asia, the Americas, and Europe. Visit our website at www.bitflow.com.
Featured Product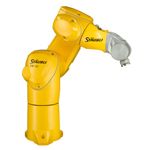 TX2 series of robots: the next generation of fast and precise 6-axis robots. This new robot range is redefining performance with the optimum balance of speed, rigidity, size and envelope. Those pioneer robots can be used in all areas, including sensitive and restrictive environments thanks to their unique features. Known worldwide for the quality of our design and innovation for more than a century, the Stäubli Group has brought its renowned engineering expertise and technological ingenuity to the forefront of robotics. Since 1982, we have built a highly regarded robotics business, and more significantly, transformed the way thousands of manufacturing operations perform. Today Stäubli Robotics is a leading player in robotics around the world, consistently delivering engineering as effective and reliable as our service and support.