Awards Ceremony held at UBM's Advanced Design and Manufacturing event in Anaheim, CA
US Digital announced the introduction of the E8T miniature optical encoder. Combining small form factor and resolutions up to 720 CPR, the E8T is ideally suited for medical and other space sensitive applications that require reliable position and velocity feedback. The E8T's small package footprint fits motors as small as National Electrical Manufacturers Association (NEMA) size 11.
Datalogic will be exhibiting at North America's largest annual automation technology event - ATX West.
Live Demonstrations, Cutting Edge Learning, Top Networking, Interactive Discussion Panels and a Hollywood-Inspired Keynote Highlight February's Show
Gadget Freak of the Year and Rising Engineering Star Award winners also unveiled
At booth #4604, Stäubli will exhibit the latest in robotics automation. Stäubli's range of clean, consistent high performance robots will be illustrating a number of tasks specifically for manufacturing automation. From product picking at extremely high speeds, to the safety aspects of product handling, Staubli robotics offers a full solution for automating many manufacturing processes.
Records 1 to 7 of 7
Featured Product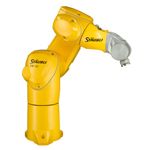 TX2 series of robots: the next generation of fast and precise 6-axis robots. This new robot range is redefining performance with the optimum balance of speed, rigidity, size and envelope. Those pioneer robots can be used in all areas, including sensitive and restrictive environments thanks to their unique features. Known worldwide for the quality of our design and innovation for more than a century, the Stäubli Group has brought its renowned engineering expertise and technological ingenuity to the forefront of robotics. Since 1982, we have built a highly regarded robotics business, and more significantly, transformed the way thousands of manufacturing operations perform. Today Stäubli Robotics is a leading player in robotics around the world, consistently delivering engineering as effective and reliable as our service and support.