Hot Stories
Julian: A Open Source Grammar Based Speech Recognition Library
Submitted on 02/24/12, 11:13 AM | Click Here for the full article: Achu's TechBlog

Achu Wilson is building a personal robot called Chippu. Using Julian, a special version of Julius Speech Recognition Library, he was able to recognize and execute voice commands. He details the process of getting the library working with ROS in his blog post here.
Comments (0)
This story does not have any comments. Be the first to leave a comment below.
Post A Comment
You must be logged in before you can post a comment. Login now.
Featured Hot Product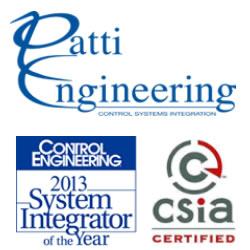 Patti Engineering knows system integration. Our technical expertise in electrical control and information systems combines to provide you with the right solution for your automation needs, asset/energy management, product distribution, production information, and complex control applications. Our niche is that we embrace our customers' problems, where other companies have walked away. Therefore, we have built systems, machinery and equipment for clients that are the world's "onlys." Founded in 1991, our information and control systems are used for retail distribution, manufacturing plants, water/theme parks, libraries, law enforcement, military, municipalities, waste water, food industry, ice arenas and college/universities.