Hot Stories
Instructions For Developing Your Own 3D Camera
Submitted on 03/07/12, 12:03 PM | Click Here for the full article: Hackengineer

The Hackengineer web site has complete plans for building a portable 3d camera. The system uses a Texas Instruments DLP pico projector, Leopard Imaging's Leopardboard 365 VGA camera board, a small 2x telephoto lens, and a BeagleBoard. The system uses the concept know as Structured-light. Structured light uses a set of temporally encoded patterns that are sequentially projected onto the scene. When the pattern is seen from different viewpoints, the pattern appears geometrically distorted due to the surface shape of the object. This information is used to construct the depth data.
Comments (0)
This story does not have any comments. Be the first to leave a comment below.
Post A Comment
You must be logged in before you can post a comment. Login now.
Featured Hot Product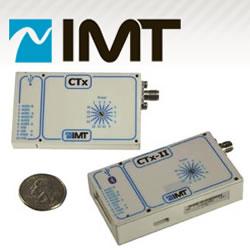 The VSTx is an ultra small, low power, SD, COFDM, video/audio/data transmitter. It has standard selectable modulation bandwidths of 6, 7 and 8 MHz or optional 1.25 MHz or 2.5 MHz narrow bandwidth COFDM (NBCOFDM) modes. The VSTx features superb H.264 SD encoding and operates in the standard 2k DVB-T COFDM mode. The VSTx is available with two connector options. The first model features standard connectors for simple interfacing in the field. The VSTx can easily be used by agents in the field for body worn video wires and other applications. The second model features a small flex ribbon interface cable that is ideal for integration with cameras in very small, hidden locations. The SRx features AES decryption capabilities, making it ideal for public security monitoring, covert surveillance, and other secure transmission applications. The VSTx will transmit images in a line of site environment for more than 200 meters. Further range can be achieved, depending on mode, frequency, power setting and choice of antenna.