Hot Stories
Instructions For Developing Your Own 3D Camera
Submitted on 03/07/12, 12:03 PM | Click Here for the full article: Hackengineer

The Hackengineer web site has complete plans for building a portable 3d camera. The system uses a Texas Instruments DLP pico projector, Leopard Imaging's Leopardboard 365 VGA camera board, a small 2x telephoto lens, and a BeagleBoard. The system uses the concept know as Structured-light. Structured light uses a set of temporally encoded patterns that are sequentially projected onto the scene. When the pattern is seen from different viewpoints, the pattern appears geometrically distorted due to the surface shape of the object. This information is used to construct the depth data.
Comments (0)
This story does not have any comments. Be the first to leave a comment below.
Post A Comment
You must be logged in before you can post a comment. Login now.
Featured Hot Product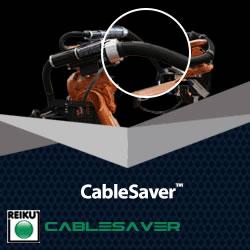 Almost 85% of Robotics Downtime can be directly attributed to cable or hose failures. For over 40 years REIKU has been recognized as the Global Leader in Hi Tech Cable Protection Systems. The cost of production downtime and the eventual replacement of failed cables and hoses can be dramatically reduced or even eliminated with REIKU Robotic Cable Management System Solutions. REIKU works closely with all of the major Robot manufacturers developing "customer oriented system solutions".