Hot Stories
Printable Robots From MIT
Submitted on 04/03/12, 11:50 AM | Click Here for the full article: MIT Computer Science & Artificial Intelligence Lab

The Massachusetts Institute of Technology (MIT) is leading an ambitious new project to reinvent how robots are designed and produced. Funded by a $10 million grant from the National Science Foundation (NSF), the project will aim to develop a desktop technology that would make it possible for the average person to design, customize and print a specialized robot in a matter of hours.
The project envisions a future desktop technology that prints actual programmable hybrid electro-mechanical devices from simple descriptions on-demand, anywhere, and with performance one would expect from a team of professional engineers, using advanced materials. The project aims to transform manufacturing as dramatically as the personal computer democratized information technology and transformed how we communicate.
Comments (0)
This story does not have any comments. Be the first to leave a comment below.
Post A Comment
You must be logged in before you can post a comment. Login now.
Featured Hot Product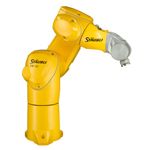 Introducing the TP80 Fast Picker, a new series that delivers speeds in excess of 200 picks per minute, and more flexibility at a lower cost. Stäubli has long set the standard for high speed and precision in robotic performance, ensuring the highest possible throughput and shortest cycle times.