Hot Stories
Printable Robots From MIT
Submitted on 04/03/12, 11:50 AM | Click Here for the full article: MIT Computer Science & Artificial Intelligence Lab

The Massachusetts Institute of Technology (MIT) is leading an ambitious new project to reinvent how robots are designed and produced. Funded by a $10 million grant from the National Science Foundation (NSF), the project will aim to develop a desktop technology that would make it possible for the average person to design, customize and print a specialized robot in a matter of hours.
The project envisions a future desktop technology that prints actual programmable hybrid electro-mechanical devices from simple descriptions on-demand, anywhere, and with performance one would expect from a team of professional engineers, using advanced materials. The project aims to transform manufacturing as dramatically as the personal computer democratized information technology and transformed how we communicate.
Comments (0)
This story does not have any comments. Be the first to leave a comment below.
Post A Comment
You must be logged in before you can post a comment. Login now.
Featured Hot Product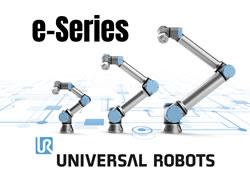 Universal Robots has reinvented industrial robotics with the lightweight and flexible UR 5 and UR10 robot arms. The Danish-designed robots automate production in all industries – even in SMBs that regard automation as prohibitively expensive, cumbersome, and difficult to integrate. The robot arms require no safety shielding, can work alongside personnel, and are easily moved around the production site to complete even the most detailed tasks. Programming is intuitive, eliminating the need for skilled programmers; simply grab the robot arm to show it the desired movement, or use the simple touch screen. The robots are sold in over 40 countries worldwide.