Robots Enter Fukushima Reactors, Detect High Radiation
The Associated Press is reporting that two PackBot ground robots from iRobot have entered Unit 1 and Unit 3 of the crippled Fukushima nuclear power plant and performed readings of temperature, oxygen levels, and radioactivity. The data from the robots, the first measurements inside the reactors in more than a month since a massive earthquake and tsunami damaged the plant, revealed high levels of radioactivity -- too high for humans to access the facilities. The remote-controlled robots entered the two reactors over the weekend. Details of the mission -- such as what areas of the reactors the robots inspected and from where they were operated -- are still scarce, but Tokyo Electric Power Co. (TEPCO), the plant's operator, said that the robots opened and closed "double doors and conducted surveys of the situation" inside the buildings.
Comments (0)
This post does not have any comments. Be the first to leave a comment below.
---
Post A Comment
You must be logged in before you can post a comment. Login now.
Featured Product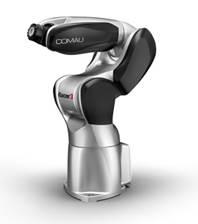 Racer3 is a powerful, high-speed, 6-axis articulated robot featuring a payload of 3kg and a reach of just 630 mm. Built from high-strength aluminum, the newest innovation in Comau robotics is lightweight and can be easily mounted on benches, walls, ceilings or on inclined supports. The third robot within the award-winning Racer family, Racer3 is Comau's response to the growing demand for fast, cost-effective robotic automation within small to medium-sized enterprises and emerging countries. Racer3 is intended for general industry use to increase productivity and reduce overall costs by automating industrial applications. It combines field-proven technology and enhanced dexterity with a keen focus on safety, design and product aesthetics. With a streamlined design and brushed metal exterior, the new powerhouse of a robot combines beauty and speed together with absolute precision and repeatability. Primary applications include assembly, material handling, machine tending, dispensing and pick & place.