Modkit
Modkit is an in-browser graphical programming environment for microcontrollers. Modkit allows you to program Arduino and Compatible hardware using simple graphical blocks and/or traditional text code. You start by configuring your hardware and then writing programs for that hardware configuration. With Modkit, you are able to configure your hardware graphically. You then snap together graphical code blocks to build programs, in a graphical programming language inside your browser. Finally using the downloadable widget you then send the finished code to your physical device.
The Modkit MotoProto Shield for Arduino that makes it easy to connect up to 4 sensors and control two DC motors as well as a 16X2 character LCD. The sensor jacks accept 2.5mm cables and provide access to VCC, GND, and an analog input.
Comments (0)
This post does not have any comments. Be the first to leave a comment below.
---
Post A Comment
You must be logged in before you can post a comment. Login now.
Featured Product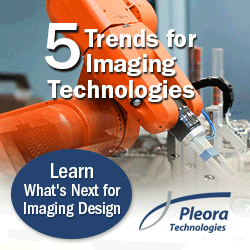 Technology development moves at a dizzying pace and the machine vision industry is no exception. Specific to imaging there is consistent innovation aimed at improving efficiencies, costs, and intelligence. Over the past 12 months, for example, new USB3 Vision™ products have driven the design of higher bandwidth, plug-and-play solutions for imaging applications. What's next for machine vision? This article examines five trends that are expected to influence imaging system design. Sign up at right to receive news and updates on the latest vision technology for medical imaging and you'll receive Five Trends for Imaging Technologies free!