New Cornell Research On Object Identification Within Enviroments
In Cornell's Personal Robotics Laboratory, a team led by Ashutosh Saxena, assistant professor of computer science, is teaching robots to manipulate objects and find their way around in new environments. The researchers trained a robot by giving it 24 office scenes and 28 home scenes in which they had labeled most objects. The computer examines such features as color, texture and what is nearby and decides what characteristics all objects with the same label have in common. In a new environment, it compares each segment of its scan with the objects in its memory and chooses the ones with the best fit.
Comments (0)
This post does not have any comments. Be the first to leave a comment below.
---
Post A Comment
You must be logged in before you can post a comment. Login now.
Featured Product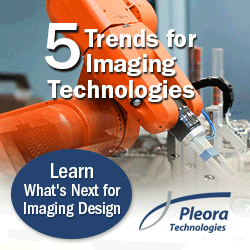 Technology development moves at a dizzying pace and the machine vision industry is no exception. Specific to imaging there is consistent innovation aimed at improving efficiencies, costs, and intelligence. Over the past 12 months, for example, new USB3 Vision™ products have driven the design of higher bandwidth, plug-and-play solutions for imaging applications. What's next for machine vision? This article examines five trends that are expected to influence imaging system design. Sign up at right to receive news and updates on the latest vision technology for medical imaging and you'll receive Five Trends for Imaging Technologies free!