Odos Imaging 2+3D Sensor
Odos imaging's 1.3 mega­pixel 2+3D camera can capture accurate 3D images at 100 frames per second; allowing the system to capture very fast moving objects without degradation even in the brightest sunlight. Combining proprietary technology with conventional 2D image capture, an Odos imaging solution provides unambiguous 3D images at video rates from a single unit. Very short, intense pulses of invisible light are used to illuminate the scene. The high intensity of the pulse minimizes the effect of ambient light and allows for outdoor operation. These pulses are reflected by objects within the scene and are detected by the image sensor. Proprietary algorithms convert the detected pulses into a distance measurement. Simultaneously, a conventional 2D image of the scene is captured. Each pixel on the sensor provides both distance and intensity information.
Comments (0)
This post does not have any comments. Be the first to leave a comment below.
---
Post A Comment
You must be logged in before you can post a comment. Login now.
Featured Product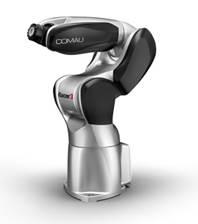 Racer3 is a powerful, high-speed, 6-axis articulated robot featuring a payload of 3kg and a reach of just 630 mm. Built from high-strength aluminum, the newest innovation in Comau robotics is lightweight and can be easily mounted on benches, walls, ceilings or on inclined supports. The third robot within the award-winning Racer family, Racer3 is Comau's response to the growing demand for fast, cost-effective robotic automation within small to medium-sized enterprises and emerging countries. Racer3 is intended for general industry use to increase productivity and reduce overall costs by automating industrial applications. It combines field-proven technology and enhanced dexterity with a keen focus on safety, design and product aesthetics. With a streamlined design and brushed metal exterior, the new powerhouse of a robot combines beauty and speed together with absolute precision and repeatability. Primary applications include assembly, material handling, machine tending, dispensing and pick & place.