Micro-expression Detection Software
Humans are good at recognizing full facial expressions which present a rich source of affective information. However, psychological studies have shown that affect also manifests itself as micro-expressions. These are very rapid 1/3 to 1/25 second involuntary facial expressions which give a brief glimpse to feelings that people undergo but try not to express. Researchers at Oxford University and Oulu University are developing software that can recognize these 'micro-expressions'. The initial experiments do indicate that the approach can distinguish deceptive from truthful micro-expressions, but further experiments need to be conducted to confirm it. The full paper is available here.
Comments (0)
This post does not have any comments. Be the first to leave a comment below.
---
Post A Comment
You must be logged in before you can post a comment. Login now.
Featured Product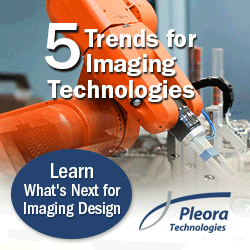 Technology development moves at a dizzying pace and the machine vision industry is no exception. Specific to imaging there is consistent innovation aimed at improving efficiencies, costs, and intelligence. Over the past 12 months, for example, new USB3 Vision™ products have driven the design of higher bandwidth, plug-and-play solutions for imaging applications. What's next for machine vision? This article examines five trends that are expected to influence imaging system design. Sign up at right to receive news and updates on the latest vision technology for medical imaging and you'll receive Five Trends for Imaging Technologies free!