Micro-expression Detection Software
Humans are good at recognizing full facial expressions which present a rich source of affective information. However, psychological studies have shown that affect also manifests itself as micro-expressions. These are very rapid 1/3 to 1/25 second involuntary facial expressions which give a brief glimpse to feelings that people undergo but try not to express. Researchers at Oxford University and Oulu University are developing software that can recognize these 'micro-expressions'. The initial experiments do indicate that the approach can distinguish deceptive from truthful micro-expressions, but further experiments need to be conducted to confirm it. The full paper is available here.
Comments (0)
This post does not have any comments. Be the first to leave a comment below.
---
Post A Comment
You must be logged in before you can post a comment. Login now.
Featured Product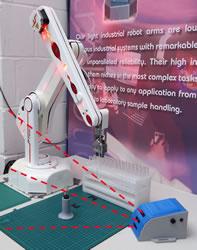 ST Robotics have decades of experience in industrial robots having sold hundreds of robots over the years. The company has 3 main models, R12, R17 and R19 all using a unique simple industrial technology that dramatically reduces costs resulting in the lowest priced industrial robots available. The same uncomplicated technology vastly improves reliability. ST backs this up with a 2 year warranty. Typical applications are routine testing, sample handling and also education. The software is a different paradigm from most robots. It is command based; you type a command and see immediate action. Programming is a building block approach, building confidence as you program in small 'mind-sized bytes'. ST offers free unlimited technical support.