MPU-9150 Nine-axis MotionTracking device
The MPU-9150 is a System in Package (SiP) that combines two chips: the MPU-6050, which contains a 3-axis gyroscope, 3-axis accelerometer, and an onboard Digital Motion Processor™ (DMP™) capable of processing complex 9-axis MotionFusion algorithms; and the AK8975, a 3-axis digital compass. The part's integrated 9-axis MotionFusion algorithms access all internal sensors to gather a full set of sensor data.
For precision tracking of both fast and slow motions, the parts feature a user-programmable gyro full-scale range of ±250, ±500, ±1000, and ±2000°/sec (dps), a user-programmable accelerometer full-scale range of ±2g, ±4g, ±8g, and ±16g, and compass with a full scale range of ±1200µT.
Designworld has a video from InvenSense's CES 2012 booth demonstrating the MPU-9150.
The DIYDrones post has additional info and comments.
Comments (0)
This post does not have any comments. Be the first to leave a comment below.
---
Post A Comment
You must be logged in before you can post a comment. Login now.
Featured Product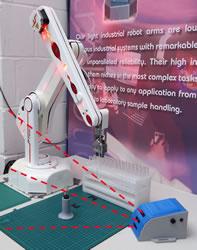 ST Robotics have decades of experience in industrial robots having sold hundreds of robots over the years. The company has 3 main models, R12, R17 and R19 all using a unique simple industrial technology that dramatically reduces costs resulting in the lowest priced industrial robots available. The same uncomplicated technology vastly improves reliability. ST backs this up with a 2 year warranty. Typical applications are routine testing, sample handling and also education. The software is a different paradigm from most robots. It is command based; you type a command and see immediate action. Programming is a building block approach, building confidence as you program in small 'mind-sized bytes'. ST offers free unlimited technical support.