KUKAprc: Parametric Robot Control for Visual Programming Language Grasshopper
The International Association for Robots in Architecture has released an update to it's Grasshopper plugin: KUKA:prc.
Grasshopper is visual programming language built on top of the Rhino3D modeler. Grasshopper can be used to generate complex 3d structures procedurally by chaining together operations using its node-based IDE.
KUKA:prc enables you to program industrial robots directly out of the parametric modeling environment, including a full kinematic simulation of the robot. The generated files can be executed at the KUKA robot, without requiring any additional software. The new release includes several preset profiles existing KUKA robots and is free (at least for the time being) to download and test here.
Comments (0)
This post does not have any comments. Be the first to leave a comment below.
---
Post A Comment
You must be logged in before you can post a comment. Login now.
Featured Product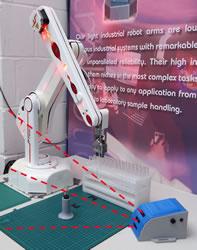 ST Robotics have decades of experience in industrial robots having sold hundreds of robots over the years. The company has 3 main models, R12, R17 and R19 all using a unique simple industrial technology that dramatically reduces costs resulting in the lowest priced industrial robots available. The same uncomplicated technology vastly improves reliability. ST backs this up with a 2 year warranty. Typical applications are routine testing, sample handling and also education. The software is a different paradigm from most robots. It is command based; you type a command and see immediate action. Programming is a building block approach, building confidence as you program in small 'mind-sized bytes'. ST offers free unlimited technical support.