Growing a Language, by Guy Steele
A 1998 presentation by computer scientist Guy Steele, co-designer of the Scheme programming language. If you are at all interested in computer language design and theory you owe it to yourself to watch at least the first 10 minutes of the video. It might be the "Sixth Sense" of computer language design presentations.
Comments (0)
This post does not have any comments. Be the first to leave a comment below.
---
Post A Comment
You must be logged in before you can post a comment. Login now.
Featured Product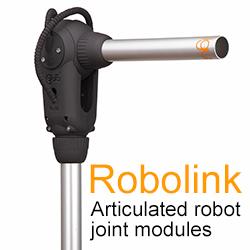 Robolink: Articulated joint modules for robots. igus® now offers a lightweight, maintenance- and corrosion-free range of robot joints for humanoid systems or other automated applications. The carbon-fiber plastic joints can rotate and oscillate freely via four wire ropes. No more expensive milling, cutting or DIY systems. Moving mass is reduced to a minimum. The actuators (engines, pneumatics and hydraulics) and the control module (DP, PC) are kept separate. Contact igus® for more information and free samples.