Fully Autonomous Hamburger Line
Momentum Machines is a Silicon Valley startup that is aims to build a fully automated gourmet quality burger production line. They plan to first open their own restaurant using the technology and then sell the hardware to others in the future. Here is their bullet points from the current alpha hardware:
Our alpha machine replaces all of the hamburger line cooks in a restaurant.It does everything employees can do except better:
It slices toppings like tomatoes and pickles only immediately before it places the slice onto your burger, giving you the freshest burger possible.
Our next revision will offer custom meat grinds for every single customer. Want a patty with 1/3 pork and 2/3 bison ground after you place your order? No problem.
Also, our next revision will use gourmet cooking techniques never before used in a fast food restaurant, giving the patty the perfect char but keeping in all the juices.
It's more consistent, more sanitary, and can produce ~360 hamburgers per hour.
Comments (0)
This post does not have any comments. Be the first to leave a comment below.
---
Post A Comment
You must be logged in before you can post a comment. Login now.
Featured Product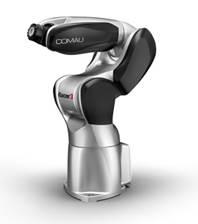 Racer3 is a powerful, high-speed, 6-axis articulated robot featuring a payload of 3kg and a reach of just 630 mm. Built from high-strength aluminum, the newest innovation in Comau robotics is lightweight and can be easily mounted on benches, walls, ceilings or on inclined supports. The third robot within the award-winning Racer family, Racer3 is Comau's response to the growing demand for fast, cost-effective robotic automation within small to medium-sized enterprises and emerging countries. Racer3 is intended for general industry use to increase productivity and reduce overall costs by automating industrial applications. It combines field-proven technology and enhanced dexterity with a keen focus on safety, design and product aesthetics. With a streamlined design and brushed metal exterior, the new powerhouse of a robot combines beauty and speed together with absolute precision and repeatability. Primary applications include assembly, material handling, machine tending, dispensing and pick & place.