Fully Autonomous Hamburger Line
Momentum Machines is a Silicon Valley startup that is aims to build a fully automated gourmet quality burger production line. They plan to first open their own restaurant using the technology and then sell the hardware to others in the future. Here is their bullet points from the current alpha hardware:
Our alpha machine replaces all of the hamburger line cooks in a restaurant.It does everything employees can do except better:
It slices toppings like tomatoes and pickles only immediately before it places the slice onto your burger, giving you the freshest burger possible.
Our next revision will offer custom meat grinds for every single customer. Want a patty with 1/3 pork and 2/3 bison ground after you place your order? No problem.
Also, our next revision will use gourmet cooking techniques never before used in a fast food restaurant, giving the patty the perfect char but keeping in all the juices.
It's more consistent, more sanitary, and can produce ~360 hamburgers per hour.
Comments (0)
This post does not have any comments. Be the first to leave a comment below.
---
Post A Comment
You must be logged in before you can post a comment. Login now.
Featured Product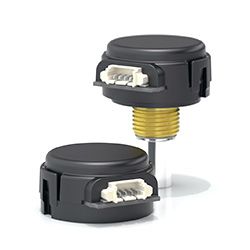 US Digital is pleased to announce the launch of the E4T, their latest series of miniature high performance optical encoders. The E4T series delivers a marked performance increase over similar encoder models and designed to be an enhanced replacement for the E4P encoder series. The E4T utilizes state of the art transmissive optical sensing technology, and incorporates US Digital's own proprietary OptoASIC. Assembly of the E4T is simple and efficient and retains the previous E4P's form factor. Key features of the new E4T include: • Mechanically and Electrically Interchangeable with E4P • Improved Quadrature Signal Strength • 100 kHz Frequency Response • Transmissive Optical Design • Collet Style Push on Optical Disk Design (Patent Pending) • Simple & Efficient Assembly Process As with all of our products the E4T is designed and manufactured in their Vancouver, Washington USA facility and is available for purchase as of December 2014.