Low Cost Hobbyists FPGA Kickstarter
If you have been thinking of dipping your toe into the world of FPGAs (field-programmable gate arrays) but always thought they were too expensive for hobbyist then you might want to check out the 'Mojo FPGA' on Kickstarter.
The Mojo is designed to make digital design easy and cost effective for anyone who is just getting started. FPGAs do not retain their configuration when the power is lost, so they must be reconfigured every time the board is turned on. Typically, a PROM is used to load the configuration file (also known as bit file) into the FPGA automatically. The problem with that is you generally need a fairly expensive programmer to program the PROMs. The Mojo features a basic serial port (similar to an Arduino) that can be used to program a new bit file into on-board flash memory. When the board is powered on, a microcontroller reads the flash memory and configures the FPGA automatically. All that is required is a low-cost USB to serial converter.
The original Kickstarter goal was 7,000 but they blew through that goal and are currently at 70,000. If you pledge $65 dollars you get a fully assembled board.
Comments (0)
This post does not have any comments. Be the first to leave a comment below.
---
Post A Comment
You must be logged in before you can post a comment. Login now.
Featured Product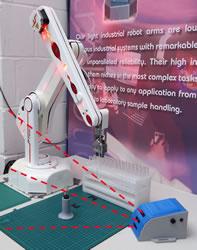 The 6-axis version of the R17HS high speed variant of the R17 robot is now available. As is our policy the 6th axis is an optional bolt-on module. At the same time we have made it even faster and new software eliminates shake and greatly improves repeatability as this video shows. Please see https://www.youtube.com/watch?v=3wG0MeiJ-yE. The video would seem to imply a repeatability of 0.01mm but we are sticking with 0.2mm in the spec. The motor specialist was able to tune the motors from the other side of the pond. My first reaction when we put power on and entered the first commands was to jump back in amazement (and maybe an expletive). Tip speed is now 3m/s; that's 3 times as fast as its nearest competitor yet costs half the price. I love it when a plan comes together.