Low Cost Hobbyists FPGA Kickstarter
If you have been thinking of dipping your toe into the world of FPGAs (field-programmable gate arrays) but always thought they were too expensive for hobbyist then you might want to check out the 'Mojo FPGA' on Kickstarter.
The Mojo is designed to make digital design easy and cost effective for anyone who is just getting started. FPGAs do not retain their configuration when the power is lost, so they must be reconfigured every time the board is turned on. Typically, a PROM is used to load the configuration file (also known as bit file) into the FPGA automatically. The problem with that is you generally need a fairly expensive programmer to program the PROMs. The Mojo features a basic serial port (similar to an Arduino) that can be used to program a new bit file into on-board flash memory. When the board is powered on, a microcontroller reads the flash memory and configures the FPGA automatically. All that is required is a low-cost USB to serial converter.
The original Kickstarter goal was 7,000 but they blew through that goal and are currently at 70,000. If you pledge $65 dollars you get a fully assembled board.
Comments (0)
This post does not have any comments. Be the first to leave a comment below.
---
Post A Comment
You must be logged in before you can post a comment. Login now.
Featured Product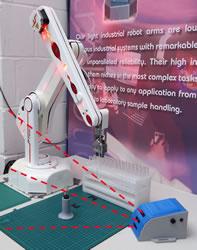 ST Robotics have decades of experience in industrial robots having sold hundreds of robots over the years. The company has 3 main models, R12, R17 and R19 all using a unique simple industrial technology that dramatically reduces costs resulting in the lowest priced industrial robots available. The same uncomplicated technology vastly improves reliability. ST backs this up with a 2 year warranty. Typical applications are routine testing, sample handling and also education. The software is a different paradigm from most robots. It is command based; you type a command and see immediate action. Programming is a building block approach, building confidence as you program in small 'mind-sized bytes'. ST offers free unlimited technical support.