Inexpensive Tactile Sensors for Robotic Hands
TakkTile's technology leverages MEMS barometers to deliver 1-gram sensitivity for a fraction of the cost of existing systems, in a package durable enough it can survive being hit with a baseball bat. From original research paper:
A new approach to the construction of tactile array sensors based on barometric pressure sensor chips and standard printed circuit boards. The chips include tightly integrated instrumentation amplifiers, analog to digital converters, pressure and temperature sensors, and control circuitry that provides excellent signal quality over standard digital bus interfaces. The resulting array electronics can be easily encapsulated with soft polymers to provide robust and compliant grasping surfaces for specific hand designs. The use of standard commercial-off-the-shelf technologies means that only basic electrical and mechanical skills are required to build effective tactile sensors for new applications.
For $299 the TakkTile Starter Kit includes two TakkStrips cast in rubber and a Arduino Micro.
Comments (0)
This post does not have any comments. Be the first to leave a comment below.
---
Post A Comment
You must be logged in before you can post a comment. Login now.
Featured Product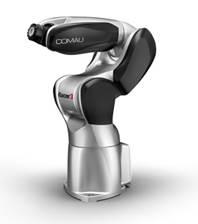 Racer3 is a powerful, high-speed, 6-axis articulated robot featuring a payload of 3kg and a reach of just 630 mm. Built from high-strength aluminum, the newest innovation in Comau robotics is lightweight and can be easily mounted on benches, walls, ceilings or on inclined supports. The third robot within the award-winning Racer family, Racer3 is Comau's response to the growing demand for fast, cost-effective robotic automation within small to medium-sized enterprises and emerging countries. Racer3 is intended for general industry use to increase productivity and reduce overall costs by automating industrial applications. It combines field-proven technology and enhanced dexterity with a keen focus on safety, design and product aesthetics. With a streamlined design and brushed metal exterior, the new powerhouse of a robot combines beauty and speed together with absolute precision and repeatability. Primary applications include assembly, material handling, machine tending, dispensing and pick & place.