Snake Robots Deployed in Nuclear Power Plant
Tests of a modular snake robot in an Austrian nuclear power plant proved the multi-jointed, camera-headed robot can crawl through a variety of steam pipes and connecting vessels, suggesting it could be a valuable inspection tool, report researchers at Carnegie Mellon University's Robotics Institute.
The snake robot was able to maneuver through multiple bends, slip through open valves and negotiate vessels with multiple openings. With a videocamera and LED light on its head, the snake was able to peer into holes and to get multiple views of items of interest inside the pipes.
Comments (0)
This post does not have any comments. Be the first to leave a comment below.
---
Post A Comment
You must be logged in before you can post a comment. Login now.
Featured Product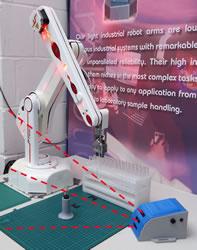 ST Robotics have decades of experience in industrial robots having sold hundreds of robots over the years. The company has 3 main models, R12, R17 and R19 all using a unique simple industrial technology that dramatically reduces costs resulting in the lowest priced industrial robots available. The same uncomplicated technology vastly improves reliability. ST backs this up with a 2 year warranty. Typical applications are routine testing, sample handling and also education. The software is a different paradigm from most robots. It is command based; you type a command and see immediate action. Programming is a building block approach, building confidence as you program in small 'mind-sized bytes'. ST offers free unlimited technical support.