S4A: Scratch modification for Arduino
S4A:
Scratch for Arduino (S4A) is a modified version of Scratch, ready to interact with Arduino boards.
Supported boards
S4A works with Arduino Diecimila, Duemilanove and Uno. Other boards haven't been tested, but they may also work.
Connectivity
Components have to be connected in a particular way. S4A allows for 6 analog inputs (analog pins), 2 digital inputs (digital pins 2 and 3), 3 analog outputs (digital pins 5, 6 and 9), 3 digital outputs (pins 10, 11 and 13) and 4 special outputs to connect Parallax continuous rotation servomotors (digital pins 4, 7, 8 and 12).
You can manage a board wirelessly by attaching an RF module to it, such as Xbee.
S4A allows you to control as many boards as USB ports you have.
Compatibility
S4A is backwards compatible with Scratch, so you can open Scratch projects in it. However, you won't be able to share your projects on the Scratch community website because doing so goes against the Scratch terms of use.
Take in account that this compatibility doesn't work both ways, so you won't be able to open an S4A project from within the original Scratch.
Using a PicoBoard along with an Arduino board is also supported... cont'd
Comments (0)
This post does not have any comments. Be the first to leave a comment below.
---
Post A Comment
You must be logged in before you can post a comment. Login now.
Featured Product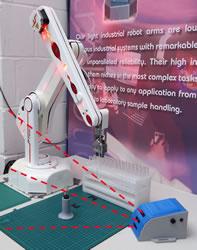 ST Robotics have decades of experience in industrial robots having sold hundreds of robots over the years. The company has 3 main models, R12, R17 and R19 all using a unique simple industrial technology that dramatically reduces costs resulting in the lowest priced industrial robots available. The same uncomplicated technology vastly improves reliability. ST backs this up with a 2 year warranty. Typical applications are routine testing, sample handling and also education. The software is a different paradigm from most robots. It is command based; you type a command and see immediate action. Programming is a building block approach, building confidence as you program in small 'mind-sized bytes'. ST offers free unlimited technical support.