Google Project Tango
From Johnny Lee and the ATAP-Project Tango Team:
What is it?
Our current prototype is a 5" phone containing customized hardware and software designed to track the full 3D motion of the device, while simultaneously creating a map of the environment. These sensors allow the phone to make over a quarter million 3D measurements every second, updating its position and orientation in real-time, combining that data into a single 3D model of the space around you.
It runs Android and includes development APIs to provide position, orientation, and depth data to standard Android applications written in Java, C/C++, as well as the Unity Game Engine. These early prototypes, algorithms, and APIs are still in active development. So, these experimental devices are intended only for the adventurous and are not a final shipping product.
How do I get one?
We're looking for professional developers with dreams of creating more than a touch-screen app. These devices were built with the unique ability to sense 3D motion and geometry. We want partners who will push the technology forward and build great user experiences on top of this platform.
Currently, we have 200 prototype dev kits. We have allocated some of these devices for projects in the areas of indoor navigation/mapping, single/multiplayer games that use physical space, and new algorithms for processing sensor data. We have also set aside units for applications we haven't thought of yet. Tell us what you would build. Be creative. Be specific. Be bold.
We expect to distribute all of our available units by March 14th, 2014... cont'd
Comments (0)
This post does not have any comments. Be the first to leave a comment below.
---
Post A Comment
You must be logged in before you can post a comment. Login now.
Featured Product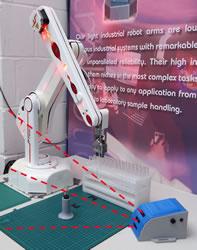 ST Robotics have decades of experience in industrial robots having sold hundreds of robots over the years. The company has 3 main models, R12, R17 and R19 all using a unique simple industrial technology that dramatically reduces costs resulting in the lowest priced industrial robots available. The same uncomplicated technology vastly improves reliability. ST backs this up with a 2 year warranty. Typical applications are routine testing, sample handling and also education. The software is a different paradigm from most robots. It is command based; you type a command and see immediate action. Programming is a building block approach, building confidence as you program in small 'mind-sized bytes'. ST offers free unlimited technical support.