Tunzelbots
Eugénie von Tunzelmann:
Ever since reading Richard Dawkins' book 'The Blind Watchmaker' I'd wanted to try my hand at some evolutionary programming. The idea is to model natural selection inside the computer by generating procedural creatures and allowing them to vary and improve over time without user intervention.
The code to build and rig the robots was written in Python, as was the code to run the rigid body simulation, using the Open Dynamics Engine to drive the sim. I wrote an importer for Side Effects' Houdini to read in my robot simulations so I could render them out as pictures.
Comments (0)
This post does not have any comments. Be the first to leave a comment below.
---
Post A Comment
You must be logged in before you can post a comment. Login now.
Featured Product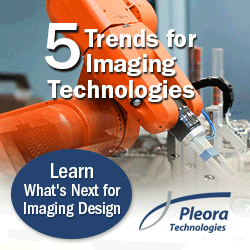 Technology development moves at a dizzying pace and the machine vision industry is no exception. Specific to imaging there is consistent innovation aimed at improving efficiencies, costs, and intelligence. Over the past 12 months, for example, new USB3 Vision™ products have driven the design of higher bandwidth, plug-and-play solutions for imaging applications. What's next for machine vision? This article examines five trends that are expected to influence imaging system design. Sign up at right to receive news and updates on the latest vision technology for medical imaging and you'll receive Five Trends for Imaging Technologies free!