Tunzelbots
Eugénie von Tunzelmann:
Ever since reading Richard Dawkins' book 'The Blind Watchmaker' I'd wanted to try my hand at some evolutionary programming. The idea is to model natural selection inside the computer by generating procedural creatures and allowing them to vary and improve over time without user intervention.
The code to build and rig the robots was written in Python, as was the code to run the rigid body simulation, using the Open Dynamics Engine to drive the sim. I wrote an importer for Side Effects' Houdini to read in my robot simulations so I could render them out as pictures.
Comments (0)
This post does not have any comments. Be the first to leave a comment below.
---
Post A Comment
You must be logged in before you can post a comment. Login now.
Featured Product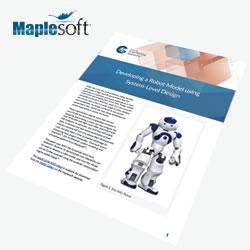 This paper uses NAO, the humanoid robot from Aldebaran Systems, to demonstrate how MapleSim can be used to develop a robot model, and how the model can be further analyzed using the symbolic computation engine within Maple.