uArm
From the projects' kickstarter ($104,217 pledged of $5,000 goal):
uArm is a 4-axis parallel-mechanism robot arm, inspired by the ABB PalletPack industrial robot arm IRB460. ($185 for complete black kit and a gripper)
The basic design is Arduino-controlled with 4 degrees of freedom. Three servos on the base control the main movement of the arm and the mini servo on the top moves and rotates the object. The end-effector of the arm is always kept parallel to the ground.
Right now we have already developed a Windows application that allows the uArm to be controlled with keyboard or mouse.
With some basic controlling skills, you can use basically any input device to control it, for example, we have also used other remote controller to control the arm. With our imbedded inverse-kinematics algorithm, the uArm can be precisely controlled using coordinates.
We have also written an Arduino library specifically for controlling the uArm. So if you are familiar with Arduino, you can program it directly with Arduino IDE. By calling different functions, you can easily move uArm to your desired position without doing tons of hard math... cont'd
Comments (0)
This post does not have any comments. Be the first to leave a comment below.
---
Post A Comment
You must be logged in before you can post a comment. Login now.
Featured Product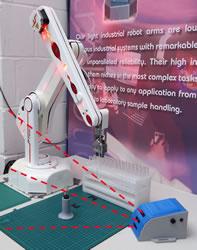 ST Robotics have decades of experience in industrial robots having sold hundreds of robots over the years. The company has 3 main models, R12, R17 and R19 all using a unique simple industrial technology that dramatically reduces costs resulting in the lowest priced industrial robots available. The same uncomplicated technology vastly improves reliability. ST backs this up with a 2 year warranty. Typical applications are routine testing, sample handling and also education. The software is a different paradigm from most robots. It is command based; you type a command and see immediate action. Programming is a building block approach, building confidence as you program in small 'mind-sized bytes'. ST offers free unlimited technical support.