Flexible Muscle-Based Locomotion for Bipedal Creatures
From John Goatstream's Vimeo Videos:
We present a muscle-based control method for simulated bipeds in which both the muscle routing and control parameters are optimized. This yields a generic locomotion control method that supports a variety of bipedal creatures. All actuation forces are the result of 3D simulated muscles, and a model of neural delay is included for all feedback paths. As a result, our controllers generate torque patterns that incorporate biomechanical constraints. The synthesized controllers find different gaits based on target speed, can cope with uneven terrain and external perturbations, and can steer to target directions... (full paper) (follow up videos)
Comments (0)
This post does not have any comments. Be the first to leave a comment below.
---
Post A Comment
You must be logged in before you can post a comment. Login now.
Featured Product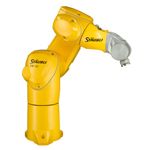 TX2 series of robots: the next generation of fast and precise 6-axis robots. This new robot range is redefining performance with the optimum balance of speed, rigidity, size and envelope. Those pioneer robots can be used in all areas, including sensitive and restrictive environments thanks to their unique features. Known worldwide for the quality of our design and innovation for more than a century, the Stäubli Group has brought its renowned engineering expertise and technological ingenuity to the forefront of robotics. Since 1982, we have built a highly regarded robotics business, and more significantly, transformed the way thousands of manufacturing operations perform. Today Stäubli Robotics is a leading player in robotics around the world, consistently delivering engineering as effective and reliable as our service and support.