Flexible Muscle-Based Locomotion for Bipedal Creatures
From John Goatstream's Vimeo Videos:
We present a muscle-based control method for simulated bipeds in which both the muscle routing and control parameters are optimized. This yields a generic locomotion control method that supports a variety of bipedal creatures. All actuation forces are the result of 3D simulated muscles, and a model of neural delay is included for all feedback paths. As a result, our controllers generate torque patterns that incorporate biomechanical constraints. The synthesized controllers find different gaits based on target speed, can cope with uneven terrain and external perturbations, and can steer to target directions... (full paper) (follow up videos)
Comments (0)
This post does not have any comments. Be the first to leave a comment below.
---
Post A Comment
You must be logged in before you can post a comment. Login now.
Featured Product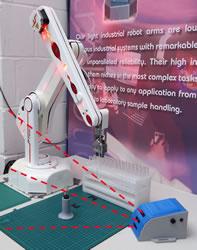 The 6-axis version of the R17HS high speed variant of the R17 robot is now available. As is our policy the 6th axis is an optional bolt-on module. At the same time we have made it even faster and new software eliminates shake and greatly improves repeatability as this video shows. Please see https://www.youtube.com/watch?v=3wG0MeiJ-yE. The video would seem to imply a repeatability of 0.01mm but we are sticking with 0.2mm in the spec. The motor specialist was able to tune the motors from the other side of the pond. My first reaction when we put power on and entered the first commands was to jump back in amazement (and maybe an expletive). Tip speed is now 3m/s; that's 3 times as fast as its nearest competitor yet costs half the price. I love it when a plan comes together.