Tiny Humanoid Robot Learning to Fly Real Airplanes
From IEEE Spectrum:
The airplane is initially parked on a runway of an airport. The robot prepares the flight by 1) pulling throttle to zero-point, 2) turning on the battery, 3) the altimeter, 4) the avionics, 5) the fuel pump, and 6) start the engine while pressing the switches on the panel. Then, PIBOT grabs the two control sticks for flight control and brakes are released. When the heading of the airplane aligns with the runway within an error less than 5 degree and its speed exceeds the taxiing speed, the second sequence begins and PIBOT increase the power... (cont'd)
Comments (0)
This post does not have any comments. Be the first to leave a comment below.
---
Post A Comment
You must be logged in before you can post a comment. Login now.
Featured Product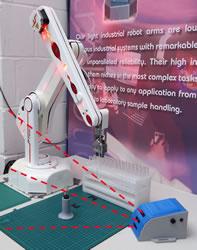 ST Robotics have decades of experience in industrial robots having sold hundreds of robots over the years. The company has 3 main models, R12, R17 and R19 all using a unique simple industrial technology that dramatically reduces costs resulting in the lowest priced industrial robots available. The same uncomplicated technology vastly improves reliability. ST backs this up with a 2 year warranty. Typical applications are routine testing, sample handling and also education. The software is a different paradigm from most robots. It is command based; you type a command and see immediate action. Programming is a building block approach, building confidence as you program in small 'mind-sized bytes'. ST offers free unlimited technical support.