Robot Octopus Takes to the Sea
From Evan Ackerman at IEEE Spectrum:
The video below has four parts to it: the first shows the difference between the robotic octopus swimming with just flexible arms, and swimming with just flexible arms in addition to a web. The most obvious difference is the speed: just over 100 millimeters per second with arms only, and up to 180 mm/s (or 0.5 body lengths per second) with the web. This is a significant increase, obviously, but what's more important is the overall cost of transport (CoT), which is a measure of the efficiency of the robot (specifically, the ratio of the energy put in over the resulting speed). The CoT for the arms-only version is 0.85, whereas the web drops that down to 0.62. So yeah, having that web in there is better in almost every way... (cont'd)
Comments (0)
This post does not have any comments. Be the first to leave a comment below.
---
Post A Comment
You must be logged in before you can post a comment. Login now.
Featured Product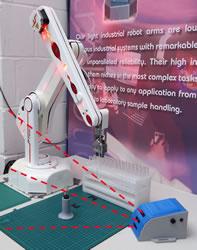 ST Robotics have decades of experience in industrial robots having sold hundreds of robots over the years. The company has 3 main models, R12, R17 and R19 all using a unique simple industrial technology that dramatically reduces costs resulting in the lowest priced industrial robots available. The same uncomplicated technology vastly improves reliability. ST backs this up with a 2 year warranty. Typical applications are routine testing, sample handling and also education. The software is a different paradigm from most robots. It is command based; you type a command and see immediate action. Programming is a building block approach, building confidence as you program in small 'mind-sized bytes'. ST offers free unlimited technical support.