CyPhy LVL 1 Drone
From CyPhy LVL 1 Drone Kickstarter:
Our drone never tilts, allowing it to snap perfect pictures and stable video every time. By eliminating tilting, the drone handles intuitively, with an unrivaled out-of-the-box experience.
Thanks to its special shape, our LVL 1 simplifies aerial photography. There's no complex, expensive stabilization mount or vulnerable camera. You'll take stunning pictures with ease.
CyPhy Works, founded by iRobot co-founder Helen Greiner, has been making tethered drones for industrial application. These drones were designed to fly 24/7 in all types of wind and weather.
While Dr. Kenneth Sebesta was optimizing our drones' hovering, he came up with a breakthrough. He realized that with just the right twist angle of the arms and a precise amount of added dihedral — plus a lot more fancy math — we could achieve level flight for the first time on a multi-rotor drone... $495 (Kickstarter)
Comments (0)
This post does not have any comments. Be the first to leave a comment below.
---
Post A Comment
You must be logged in before you can post a comment. Login now.
Featured Product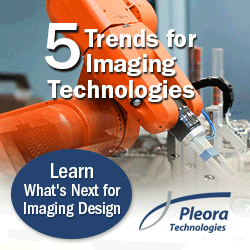 Technology development moves at a dizzying pace and the machine vision industry is no exception. Specific to imaging there is consistent innovation aimed at improving efficiencies, costs, and intelligence. Over the past 12 months, for example, new USB3 Vision™ products have driven the design of higher bandwidth, plug-and-play solutions for imaging applications. What's next for machine vision? This article examines five trends that are expected to influence imaging system design. Sign up at right to receive news and updates on the latest vision technology for medical imaging and you'll receive Five Trends for Imaging Technologies free!