CyPhy LVL 1 Drone
From CyPhy LVL 1 Drone Kickstarter:
Our drone never tilts, allowing it to snap perfect pictures and stable video every time. By eliminating tilting, the drone handles intuitively, with an unrivaled out-of-the-box experience.
Thanks to its special shape, our LVL 1 simplifies aerial photography. There's no complex, expensive stabilization mount or vulnerable camera. You'll take stunning pictures with ease.
CyPhy Works, founded by iRobot co-founder Helen Greiner, has been making tethered drones for industrial application. These drones were designed to fly 24/7 in all types of wind and weather.
While Dr. Kenneth Sebesta was optimizing our drones' hovering, he came up with a breakthrough. He realized that with just the right twist angle of the arms and a precise amount of added dihedral — plus a lot more fancy math — we could achieve level flight for the first time on a multi-rotor drone... $495 (Kickstarter)
Comments (0)
This post does not have any comments. Be the first to leave a comment below.
---
Post A Comment
You must be logged in before you can post a comment. Login now.
Featured Product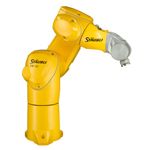 Introducing the TP80 Fast Picker, a new series that delivers speeds in excess of 200 picks per minute, and more flexibility at a lower cost. Stäubli has long set the standard for high speed and precision in robotic performance, ensuring the highest possible throughput and shortest cycle times.