Auro Robotics: Driverless Shuttles for In-campus Travel
From Techcrunch:
Y Combinator-backed Auro Robotics is currently testing their driverless shuttle system at several universities, and is actually beginning to deploy shuttles on the campus of Santa Clara University.
The company is also planning to expand to other markets like amusement parks, retirement communities and small islands, with some projects in those spaces already set to take off "in the later part of this year."
Auro has chosen to focus on these small, contained environments largely because they are controlled by private corporations, and thus are not subject to the heavy government regulation that Google and other companies are stuck behind with their driverless cars... (full article)
From Auro Robotics: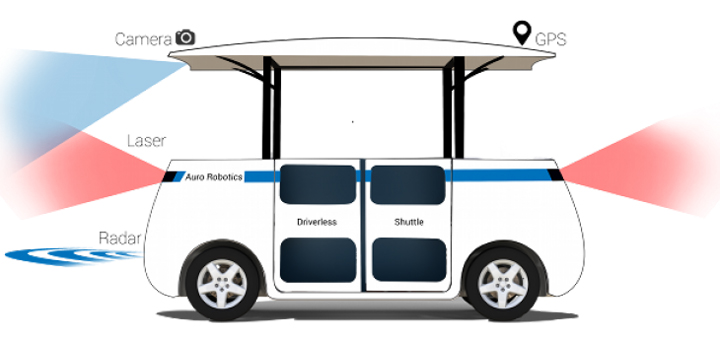 How does it work
Auro Prime uses latest technology to ensure safe navigation even on busy roads. The vehicle is equipped with Lasers, camera, Radar and GPS providing it complete 360 degree vision under all environment situations.
The shuttles relies on a prior 3D map of the environment, which is created once in the lifetime at the beginning. In all subsequent runs, it uses this 3D map to localise itself and interpret road topography.
Passengers can input their destinations through a simple to use touch screen mounted on the vehicle, or through their mobile app. The underlying software automatically figures out the optimum high-level route to reach safely to the destination... (more info)
Comments (0)
This post does not have any comments. Be the first to leave a comment below.
---
Post A Comment
You must be logged in before you can post a comment. Login now.
Featured Product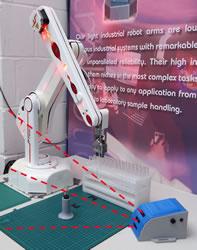 ST Robotics have decades of experience in industrial robots having sold hundreds of robots over the years. The company has 3 main models, R12, R17 and R19 all using a unique simple industrial technology that dramatically reduces costs resulting in the lowest priced industrial robots available. The same uncomplicated technology vastly improves reliability. ST backs this up with a 2 year warranty. Typical applications are routine testing, sample handling and also education. The software is a different paradigm from most robots. It is command based; you type a command and see immediate action. Programming is a building block approach, building confidence as you program in small 'mind-sized bytes'. ST offers free unlimited technical support.