Chinese factory replaces 90% of humans with robots, production soars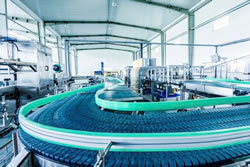 By Conner Forrest for TechRepublic: In Dongguan City, located in the central Guangdong province of China, a technology company has set up a factory run almost exclusively by robots, and the results are fascinating.
The Changying Precision Technology Company factory in Dongguan has automated production lines that use robotic arms to produce parts for cell phones. The factory also has automated machining equipment, autonomous transport trucks, and other automated equipment in the warehouse.
There are still people working at the factory, though. Three workers check and monitor each production line and there are other employees who monitor a computer control system. Previously, there were 650 employees at the factory. With the new robots, there's now only 60. Luo Weiqiang, general manager of the company, told the People's Daily that the number of employees could drop to 20 in the future.
The robots have produced almost three times as many pieces as were produced before. According to the People's Daily, production per person has increased from 8,000 pieces to 21,000 pieces. That's a 162.5% increase. Cont'd...
Comments (0)
This post does not have any comments. Be the first to leave a comment below.
---
Post A Comment
You must be logged in before you can post a comment. Login now.
Featured Product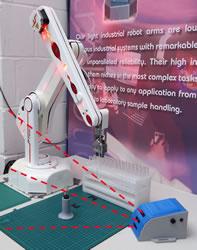 ST Robotics have decades of experience in industrial robots having sold hundreds of robots over the years. The company has 3 main models, R12, R17 and R19 all using a unique simple industrial technology that dramatically reduces costs resulting in the lowest priced industrial robots available. The same uncomplicated technology vastly improves reliability. ST backs this up with a 2 year warranty. Typical applications are routine testing, sample handling and also education. The software is a different paradigm from most robots. It is command based; you type a command and see immediate action. Programming is a building block approach, building confidence as you program in small 'mind-sized bytes'. ST offers free unlimited technical support.