Robo-Sabotage Is Surprisingly Common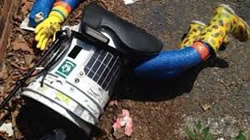 By Matt Beane for MIT Technology Review: I think perhaps there's something else at work here. Beyond building robots to increase productivity and do dangerous, dehumanizing tasks, we have made the technology into a potent symbol of sweeping change in the labor market, increased inequality, and recently the displacement of workers. If we replace the word "robot" with "machine," this has happened in cycles extending well back through the Industrial Revolution. Holders of capital invest in machinery to increase production because they get a better return, and then many people, including some journalists, academics, and workers cry foul, pointing to the machinery as destroying jobs. Amidst the uproar, eventually there are a few reports of people angrily breaking the machines.
Two years ago, I did an observational study of semiautonomous mobile delivery robots at three different hospitals. I went in looking for how using the robots changed the way work got done, but I found out that beyond increasing productivity through delivery work, the robots were kept around as a symbol of how progressive the hospitals were, and that when people who'd been doing similar delivery jobs at the hospitals quit, their positions weren't filled. Cont'd...
Comments (0)
This post does not have any comments. Be the first to leave a comment below.
---
Post A Comment
You must be logged in before you can post a comment. Login now.
Featured Product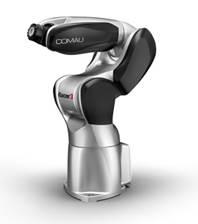 Racer3 is a powerful, high-speed, 6-axis articulated robot featuring a payload of 3kg and a reach of just 630 mm. Built from high-strength aluminum, the newest innovation in Comau robotics is lightweight and can be easily mounted on benches, walls, ceilings or on inclined supports. The third robot within the award-winning Racer family, Racer3 is Comau's response to the growing demand for fast, cost-effective robotic automation within small to medium-sized enterprises and emerging countries. Racer3 is intended for general industry use to increase productivity and reduce overall costs by automating industrial applications. It combines field-proven technology and enhanced dexterity with a keen focus on safety, design and product aesthetics. With a streamlined design and brushed metal exterior, the new powerhouse of a robot combines beauty and speed together with absolute precision and repeatability. Primary applications include assembly, material handling, machine tending, dispensing and pick & place.