Robot That Copies Artist's Exact Strokes To Replicate A Painting In 3D
From the Instapainting Blog:
Over the past three weeks I've been working on a robotic painter to research the area of mechanical artwork reproduction and automated picture to painting creation for Instapainting.com and the print store e-commerce platform A Manufactory.
The initial prototype was built in about 3 weeks, and currently does mechnical reproductions. The AI painting mode which will paint a photograph will follow in the next post (putting some finishing touches on it)...
...The current prototype operates on 3 dimensions: X, Y, and a Z axis for pen pressure from the Wacom tablet. The artist can control the motion from a Wacom tablet and, for the most part, it's lag-free. Every stroke is recorded so that it can be played back. You can see both the intitial painting and the playback in the video below... (full post)
Comments (0)
This post does not have any comments. Be the first to leave a comment below.
---
Post A Comment
You must be logged in before you can post a comment. Login now.
Featured Product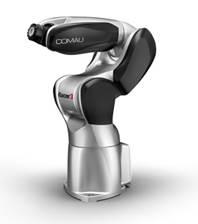 Racer3 is a powerful, high-speed, 6-axis articulated robot featuring a payload of 3kg and a reach of just 630 mm. Built from high-strength aluminum, the newest innovation in Comau robotics is lightweight and can be easily mounted on benches, walls, ceilings or on inclined supports. The third robot within the award-winning Racer family, Racer3 is Comau's response to the growing demand for fast, cost-effective robotic automation within small to medium-sized enterprises and emerging countries. Racer3 is intended for general industry use to increase productivity and reduce overall costs by automating industrial applications. It combines field-proven technology and enhanced dexterity with a keen focus on safety, design and product aesthetics. With a streamlined design and brushed metal exterior, the new powerhouse of a robot combines beauty and speed together with absolute precision and repeatability. Primary applications include assembly, material handling, machine tending, dispensing and pick & place.