Robot That Copies Artist's Exact Strokes To Replicate A Painting In 3D
From the Instapainting Blog:
Over the past three weeks I've been working on a robotic painter to research the area of mechanical artwork reproduction and automated picture to painting creation for Instapainting.com and the print store e-commerce platform A Manufactory.
The initial prototype was built in about 3 weeks, and currently does mechnical reproductions. The AI painting mode which will paint a photograph will follow in the next post (putting some finishing touches on it)...
...The current prototype operates on 3 dimensions: X, Y, and a Z axis for pen pressure from the Wacom tablet. The artist can control the motion from a Wacom tablet and, for the most part, it's lag-free. Every stroke is recorded so that it can be played back. You can see both the intitial painting and the playback in the video below... (full post)
Comments (0)
This post does not have any comments. Be the first to leave a comment below.
---
Post A Comment
You must be logged in before you can post a comment. Login now.
Featured Product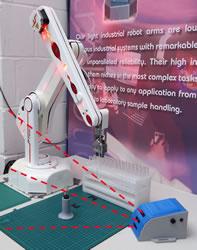 ST Robotics have decades of experience in industrial robots having sold hundreds of robots over the years. The company has 3 main models, R12, R17 and R19 all using a unique simple industrial technology that dramatically reduces costs resulting in the lowest priced industrial robots available. The same uncomplicated technology vastly improves reliability. ST backs this up with a 2 year warranty. Typical applications are routine testing, sample handling and also education. The software is a different paradigm from most robots. It is command based; you type a command and see immediate action. Programming is a building block approach, building confidence as you program in small 'mind-sized bytes'. ST offers free unlimited technical support.