Why being able to 3-D print glass objects is such a big deal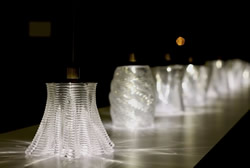 By Dominic Basulto for the Washington Post: Researchers at MIT have just unveiled the ability to 3-D-print beautiful glass objects. While humanity has been forming, blowing and molding glass objects for more than 4,500 years, this is the first time that a 3-D printer has been used to process glass from a molten state to an annealed product.
Obviously, there are some purely aesthetic applications here, as in the potential for epic blown glass art. Think museum-worthy glass objects worthy of Dale Chihuly. In fact, the MIT team — a collaborative team of researchers that includes the MIT Media Lab's Mediated Matter group, the MIT Glass Lab and MIT's Mechanical Engineering Department — plan to display a few of their beautiful objects at an upcoming exhibition at the Cooper Hewitt, Smithsonian Design Museum in 2016.
But the applications go beyond just beautiful new designs that might be created via 3-D printers one day. As the MIT research team points out in a forthcoming paper for the journal 3-D Printing and Additive Manufacturing, "As designers learn to utilize this new freedom in glass manufacturing it is expected that a whole range of novel applications will be discovered." That's the real future potential of glass 3-D printing — the ability to create objects and applications that do not exist today. Cont'd...
Comments (0)
This post does not have any comments. Be the first to leave a comment below.
---
Post A Comment
You must be logged in before you can post a comment. Login now.
Featured Product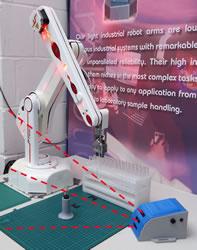 The 6-axis version of the R17HS high speed variant of the R17 robot is now available. As is our policy the 6th axis is an optional bolt-on module. At the same time we have made it even faster and new software eliminates shake and greatly improves repeatability as this video shows. Please see https://www.youtube.com/watch?v=3wG0MeiJ-yE. The video would seem to imply a repeatability of 0.01mm but we are sticking with 0.2mm in the spec. The motor specialist was able to tune the motors from the other side of the pond. My first reaction when we put power on and entered the first commands was to jump back in amazement (and maybe an expletive). Tip speed is now 3m/s; that's 3 times as fast as its nearest competitor yet costs half the price. I love it when a plan comes together.