Robotics Enter Hybrid Instruction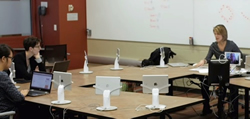 By Dian Schaffhauser for Campus Technology: A doctoral program at Michigan State University has begun experimenting with the use of robots to pull on-campus and off-campus students closer together in class. The Educational Psychology and Educational Technology (EPET) doctoral program focuses on the study of human learning and development and diverse technologies supporting learning and teaching. During a spring course in 2015 all but one student participated by being present in the form of an Apple iPad affixed to a swivel robot that was stationary; one student was on a robot that could move around the classroom.
As Christine Greenhow, the faculty member who led the seminar course, explained, the experiment was intended to expand beyond traditional Web presence of online students. "When you are using videoconferencing, it's very common to see all these different faces on the screen if you're here in the classroom and not really know where to look. It creates this distance between the speaker who's online and the speakers in the class," she said in a video about the project. "What if we could put online students in the classroom in a robot? How would their presence change?" Cont'd...
Comments (0)
This post does not have any comments. Be the first to leave a comment below.
---
Post A Comment
You must be logged in before you can post a comment. Login now.
Featured Product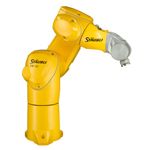 TX2 series of robots: the next generation of fast and precise 6-axis robots. This new robot range is redefining performance with the optimum balance of speed, rigidity, size and envelope. Those pioneer robots can be used in all areas, including sensitive and restrictive environments thanks to their unique features. Known worldwide for the quality of our design and innovation for more than a century, the Stäubli Group has brought its renowned engineering expertise and technological ingenuity to the forefront of robotics. Since 1982, we have built a highly regarded robotics business, and more significantly, transformed the way thousands of manufacturing operations perform. Today Stäubli Robotics is a leading player in robotics around the world, consistently delivering engineering as effective and reliable as our service and support.