MIP Robotics Launches Its First Model of New Generation Industrial Robot "MIP Junior",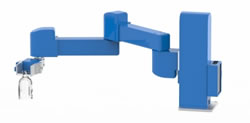 MIP robotics is a startup founded in 2015 and based on research conducted for many years. The company aims to provide accessible, industrial robots, especially for SMIs (small and medium industries). In other words, like 3D printing in recent years, MIP wants to democratize industrial robotics.
The robots can be used to automate repetitive, arduous or dangerous tasks; indeed it is possible to set the standard gripper arms: suction cup, hook, screwdriver, blade etc. Application examples are numerous: storing goods in cartons, checking the tightening torque, making the automated cutting, removing non-compliant products etc. MIP allows its customers to increase their productivity (and hence margins) in order to improve the quality or reduce the hardship. The investment can be made profitable in only 6 month.
The "Junior " is a robot called "SCARA" (that is to say a horizontal arm) operating on a range of 600mm and fixed on a vertical axis in a standard 400mm high. These dimensions can be adjusted on demand. Its speed reaches up to 250mm/s with an accuracy of 0.5mm and can move up to 5kg. Junior is also characterized by its ease of use: for instance you can teach the robot the movements to be carried out by manually moving the robotic arm. Finally, the robot stops in case of impact, enabling collaborative applications if all safety conditions are met. While prices often start around €20,000 on the market, Junior is available from €8000. Full Press Release:
Comments (0)
This post does not have any comments. Be the first to leave a comment below.
---
Post A Comment
You must be logged in before you can post a comment. Login now.
Featured Product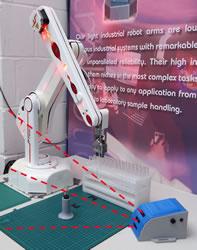 The 6-axis version of the R17HS high speed variant of the R17 robot is now available. As is our policy the 6th axis is an optional bolt-on module. At the same time we have made it even faster and new software eliminates shake and greatly improves repeatability as this video shows. Please see https://www.youtube.com/watch?v=3wG0MeiJ-yE. The video would seem to imply a repeatability of 0.01mm but we are sticking with 0.2mm in the spec. The motor specialist was able to tune the motors from the other side of the pond. My first reaction when we put power on and entered the first commands was to jump back in amazement (and maybe an expletive). Tip speed is now 3m/s; that's 3 times as fast as its nearest competitor yet costs half the price. I love it when a plan comes together.