Artificial Skin That Glows, Stretches Could Change Robotics?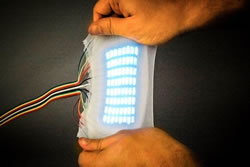 By Brendan Byrne for ValueWalk: Researchers at Cornell University have developed an electronic artificial skin that doesn't mind being stretched to 500% its original size (cell phone), glows in the dark and can move a bit like a worm.
In a paper published yesterday in the journal Science, a team of researchers showed off glowing electric skin that could be put to use in future wearables. While artificial skin that responds to commands has been done before, electronics embedded in the skin have generally broken when stretched. However, the team seems to have leaped over this hurdle by using hyperelastic, light-emitting capacitor (HLEC) technology.
"It's actually much, much, much more stretchable than human skin or octopus skin," says Chris Larson, a doctoral candidate and researcher in Cornell's Organic Robotics Lab. "In terms of texture, it's actually more like a rubber band or a balloon."
While Larson freely admits that he doesn't know much about cephalopods, the team was inspired by biology, specifically, the octopus beak with its ability to both move and stretch.
"The researchers created a three-chamber robot from the material, with the newly developed 'skin' layers on top, and inflatable layers below that allow movement," according to a release from the American Association for the Advancement of Science. "As the chambers expand linearly, the robot moves forward with a worm-like wiggle." Cont'd...
Comments (0)
This post does not have any comments. Be the first to leave a comment below.
---
Post A Comment
You must be logged in before you can post a comment. Login now.
Featured Product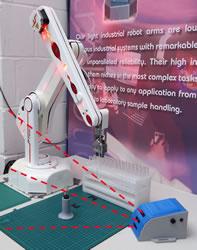 ST Robotics have decades of experience in industrial robots having sold hundreds of robots over the years. The company has 3 main models, R12, R17 and R19 all using a unique simple industrial technology that dramatically reduces costs resulting in the lowest priced industrial robots available. The same uncomplicated technology vastly improves reliability. ST backs this up with a 2 year warranty. Typical applications are routine testing, sample handling and also education. The software is a different paradigm from most robots. It is command based; you type a command and see immediate action. Programming is a building block approach, building confidence as you program in small 'mind-sized bytes'. ST offers free unlimited technical support.