Google Puts Boston Dynamics Up for Sale in Robotics Retreat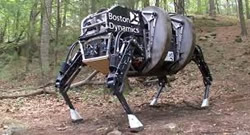 Brad Stone and Jack Clark for Bloomberg Business: The video, published to YouTube on Feb. 23, was awe-inspiring and scary. A two-legged humanoid robot trudges through the snow, somehow maintaining its balance. Another robot with two arms and pads for hands crouches down and lifts a brown box and delicately places it on a shelf -- then somehow stays upright while a human tries to push it over with a hockey stick. A third robot topples over and clambers back to its feet with ease.

Tens of millions of people viewed the video over the next few weeks. Google and the division responsible for the video, Boston Dynamics, were seemingly pushing the frontier in robot technology.
But behind the scenes a more pedestrian drama was playing out. Executives at Google parent Alphabet Inc., absorbed with making sure all the various companies under its corporate umbrella have plans to generate real revenue, concluded that Boston Dynamics isn't likely to produce a marketable product in the next few years and have put the unit up for sale, according to two people familiar with the company's plans.
Possible acquirers include the Toyota Research Institute, a division of Toyota Motor Corp., and Amazon.com Inc., which makes robots for its fulfillment centers, according to one person. Google and Toyota declined to comment, and Amazon didn't respond to requests for comment. Full Article:
Comments (0)
This post does not have any comments. Be the first to leave a comment below.
---
Post A Comment
You must be logged in before you can post a comment. Login now.
Featured Product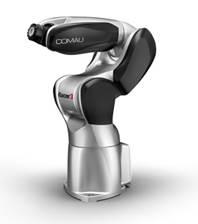 Racer3 is a powerful, high-speed, 6-axis articulated robot featuring a payload of 3kg and a reach of just 630 mm. Built from high-strength aluminum, the newest innovation in Comau robotics is lightweight and can be easily mounted on benches, walls, ceilings or on inclined supports. The third robot within the award-winning Racer family, Racer3 is Comau's response to the growing demand for fast, cost-effective robotic automation within small to medium-sized enterprises and emerging countries. Racer3 is intended for general industry use to increase productivity and reduce overall costs by automating industrial applications. It combines field-proven technology and enhanced dexterity with a keen focus on safety, design and product aesthetics. With a streamlined design and brushed metal exterior, the new powerhouse of a robot combines beauty and speed together with absolute precision and repeatability. Primary applications include assembly, material handling, machine tending, dispensing and pick & place.