9 open source robotics projects
Jason Baker for OpenSource: Open source isn't just changing the way we interact with the world, it's changing the way the world interacts back with us. Case in point: open source robotics.
Robots are playing an increasing role in our world, and while we perhaps haven't reached the utopian future with robotic housekeepers imagined for us in the Jetsons, robotics are making advances in fields that fifty years ago would have been completely unimaginable.
While undoubtedly manufacturing has been one of the biggest beneficiaries of the robot renaissance, we are seeing robots enter the mainstream as well. Many of us have robots that clean our floors, clear our gutters, mow our grass, and more.
And now, with the advances of self driving cars, drones, and other transport technologies, the line between what is a robot and what is a vehicle is steadily blurring.
But let's be honest: a lot of us have an interest in robotics simply because it's fun! And the good news is you don't need to be an electrical engineer to enjoy robotics as a hobby. Fortunately, there are a number of open source projects out there that can help even the most novice beginner get started. Full Article:
Comments (0)
This post does not have any comments. Be the first to leave a comment below.
---
Post A Comment
You must be logged in before you can post a comment. Login now.
Featured Product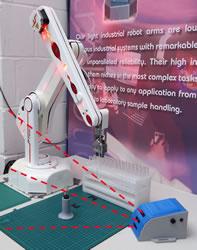 ST Robotics have decades of experience in industrial robots having sold hundreds of robots over the years. The company has 3 main models, R12, R17 and R19 all using a unique simple industrial technology that dramatically reduces costs resulting in the lowest priced industrial robots available. The same uncomplicated technology vastly improves reliability. ST backs this up with a 2 year warranty. Typical applications are routine testing, sample handling and also education. The software is a different paradigm from most robots. It is command based; you type a command and see immediate action. Programming is a building block approach, building confidence as you program in small 'mind-sized bytes'. ST offers free unlimited technical support.