The Tiny Radar Chip Revolutionizing Gesture Recognition: Google ATAP's Project Soli
From All About Circuits: Google ATAP is bringing touchless interfaces to the market using a miniaturized radar chip no bigger than a dime. This is Project Soli.
Soli's radar sensor is a marvel in many respects. For one thing, it solves a long-lived issue when it comes to gesture-recognition technology. Previous forays into the topic yielded almost-answers such as stereo cameras (which have difficulty understanding the overlap of fingers, e.g.) and capacitive touch sensing(which struggles to interpret motion in a 3D context).
Google ATAP's answer is radar.
Radar is capable of interpreting objects' position and motion even through other objects, making it perfect for developing a sensor that can be embedded in different kinds of devices like smartphones... (full article)
Comments (0)
This post does not have any comments. Be the first to leave a comment below.
---
Post A Comment
You must be logged in before you can post a comment. Login now.
Featured Product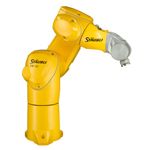 TX2 series of robots: the next generation of fast and precise 6-axis robots. This new robot range is redefining performance with the optimum balance of speed, rigidity, size and envelope. Those pioneer robots can be used in all areas, including sensitive and restrictive environments thanks to their unique features. Known worldwide for the quality of our design and innovation for more than a century, the Stäubli Group has brought its renowned engineering expertise and technological ingenuity to the forefront of robotics. Since 1982, we have built a highly regarded robotics business, and more significantly, transformed the way thousands of manufacturing operations perform. Today Stäubli Robotics is a leading player in robotics around the world, consistently delivering engineering as effective and reliable as our service and support.