A Large Dataset to Train Convolutional Networks for Disparity, Optical Flow, and Scene Flow Estimation
From Computer Vision Freiburg: Recent work has shown that optical flow estimation can be formulated as a supervised learning task and can be successfully solved with convolutional networks. Training of the so-called FlowNet was enabled by a large synthetically generated dataset. The present paper extends the concept of optical flow estimation via convolutional networks to disparity and scene flow estimation. To this end, we propose three synthetic stereo video datasets with sufficient realism, variation, and size to successfully train large networks. Our datasets are the first large-scale datasets to enable training and evaluating scene flow methods. Besides the datasets, we present a convolutional network for real-time disparity estimation that provides state-of-the-art results. By combining a flow and disparity estimation network and training it jointly, we demonstrate the first scene flow estimation with a convolutional network.
his video shows impressions from various parts of our dataset, as well as state-of-the-art realtime disparity estimation results produced by one of our new CNNs... (full paper)
Comments (0)
This post does not have any comments. Be the first to leave a comment below.
---
Post A Comment
You must be logged in before you can post a comment. Login now.
Featured Product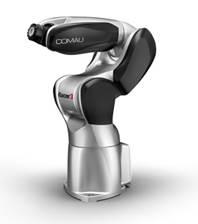 Racer3 is a powerful, high-speed, 6-axis articulated robot featuring a payload of 3kg and a reach of just 630 mm. Built from high-strength aluminum, the newest innovation in Comau robotics is lightweight and can be easily mounted on benches, walls, ceilings or on inclined supports. The third robot within the award-winning Racer family, Racer3 is Comau's response to the growing demand for fast, cost-effective robotic automation within small to medium-sized enterprises and emerging countries. Racer3 is intended for general industry use to increase productivity and reduce overall costs by automating industrial applications. It combines field-proven technology and enhanced dexterity with a keen focus on safety, design and product aesthetics. With a streamlined design and brushed metal exterior, the new powerhouse of a robot combines beauty and speed together with absolute precision and repeatability. Primary applications include assembly, material handling, machine tending, dispensing and pick & place.