Dexmo Robotics has created a mechanical exoskeleton glove for VR use
Julia Alexander for Polygon: With HTC Vive and Oculus Rift headsets, the first wave of mainstream, consumer VR has officially arrived, and with it, comes the question of how to constantly better the experience for those using it.
As it stands right now, those who want to use devices like the Vive or Rift must do so with controllers; the Rift uses an Xbox One controller while the Vive comes with its own dedicated peripheral. Both are functional and serve their purpose, but they come with certain limitations when trying to achieve the ideal VR experience.
Now, Dexmo Robotics has unveiled what it thinks will solve some of those frustrations: a mechanical exoskeleton glove that can be paired with VR headsets. The glove, which can be seen in the video above, provides 11 degrees of freedom for movement, and the company touts the fact that each finger comes with a pressured sensor. Essentially, if you're playing a first-person shooter, you'll be able to feel the in-game gun's trigger bring squeezed as well as the recoil. Full Article:
Comments (0)
This post does not have any comments. Be the first to leave a comment below.
---
Post A Comment
You must be logged in before you can post a comment. Login now.
Featured Product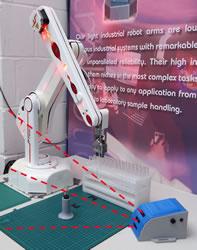 ST Robotics have decades of experience in industrial robots having sold hundreds of robots over the years. The company has 3 main models, R12, R17 and R19 all using a unique simple industrial technology that dramatically reduces costs resulting in the lowest priced industrial robots available. The same uncomplicated technology vastly improves reliability. ST backs this up with a 2 year warranty. Typical applications are routine testing, sample handling and also education. The software is a different paradigm from most robots. It is command based; you type a command and see immediate action. Programming is a building block approach, building confidence as you program in small 'mind-sized bytes'. ST offers free unlimited technical support.