Reviving Japan's Dairy Industry, One Milking Robot at a Time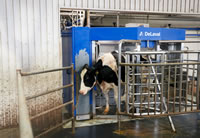 Aya Takada for Bloomberg: Jin Kawaguchiya gave up a career in finance to help revive Japan's ailing dairy industry -- one robot at a time.
In a country that relies increasingly on imported foods like cheese and butter, Japan's milk output tumbled over two decades, touching a 30-year low in 2014. Costs rose faster than prices as the economy stagnated, eroding profit, and aging farmers quit the business because they couldn't find enough young people willing to take on the hard labor of tending to cows every day.
But technology is altering that dynamic. On the northern island of Hokkaido, Japan's top dairy-producing region, Kawaguchiya transformed the 20-cow farm he inherited from his father-in-law 16 years ago into Asia's largest automated milking factory. Robots extract the white fluid from 360 cows three times a day and make sure the animals are fed and healthy. The machines even gather up poop and deposits it in a furnace that generates electricity. Cont'd...
Comments (0)
This post does not have any comments. Be the first to leave a comment below.
---
Post A Comment
You must be logged in before you can post a comment. Login now.
Featured Product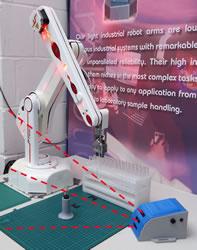 ST Robotics have decades of experience in industrial robots having sold hundreds of robots over the years. The company has 3 main models, R12, R17 and R19 all using a unique simple industrial technology that dramatically reduces costs resulting in the lowest priced industrial robots available. The same uncomplicated technology vastly improves reliability. ST backs this up with a 2 year warranty. Typical applications are routine testing, sample handling and also education. The software is a different paradigm from most robots. It is command based; you type a command and see immediate action. Programming is a building block approach, building confidence as you program in small 'mind-sized bytes'. ST offers free unlimited technical support.