Swarm of Origami Robots Can Self Assemble Out of a Single Sheet
Evan Ackerman for IEEE Spectrum: One of the biggest challenges with swarms of robots is manufacturing and deploying the swarm itself. Even if the robots are relatively small and relatively simple, you're still dealing with a whole bunch of them, and every step in building the robots or letting them loose is multiplied over the entire number of bots in the swarm. If you've got more than a few robots to handle, it starts to get all kinds of tedious.
The dream for swarm robotics is to be able to do away with all of that, and just push a button and have your swarm somehow magically appear. We're not there yet, but we're getting close: At IROS this month, researchers from the Wyss Institute for Biologically Inspired Engineering at Harvard presented a paper demonstrating an autonomous collective robotic swarm that can be manufactured in a single flat composite sheet. On command, they'll rip themselves apart from each other, fold themselves up into origami structures, and head off on a mission en masse. Cont'd...
Comments (0)
This post does not have any comments. Be the first to leave a comment below.
---
Post A Comment
You must be logged in before you can post a comment. Login now.
Featured Product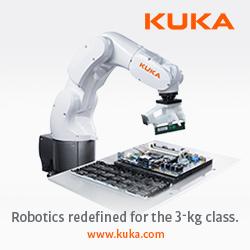 Great advances often start with small steps - in manufacturing cells measuring only 600 × 600 mm. Here, the KR 3 AGILUS is in its element. Particularly in the case of small parts and products which must be produced in a minimum of space. KUKA expertise, concentrated into the smallest of spaces, is setting new standards for the 3-kg class. The lightweight robot masters various tasks with agility, dynamism and maximum precision, leading to high flexibility in production - even when it comes to extremely narrow spaces.