America may miss out on the next industrial revolution
Preparing for automation means investing in robotics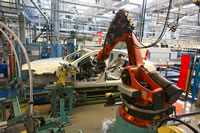 Nick Statt for The Verge: Robots are inevitably going to automate millions of jobs in the US and around the world, but there's an even more complex scenario on the horizon, said roboticist Matt Rendall. In a talk Tuesday at SXSW, Rendall painted a picture of the future of robotic job displacement that focused less on automation and more on the realistic ways in which the robotics industry will reshape global manufacturing.
The takeaway was that America, which has outsourced much of its manufacturing and lacks serious investment in industrial robotics, may miss out on the world's next radical shift in how goods are produced. That's because the robot makers — as in, the robots that make the robots — could play a key role in determining how automation expands across the globe. Full article:
Comments (0)
This post does not have any comments. Be the first to leave a comment below.
---
Post A Comment
You must be logged in before you can post a comment. Login now.
Featured Product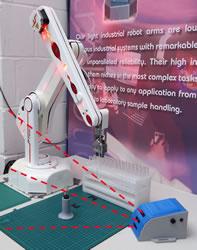 ST Robotics have decades of experience in industrial robots having sold hundreds of robots over the years. The company has 3 main models, R12, R17 and R19 all using a unique simple industrial technology that dramatically reduces costs resulting in the lowest priced industrial robots available. The same uncomplicated technology vastly improves reliability. ST backs this up with a 2 year warranty. Typical applications are routine testing, sample handling and also education. The software is a different paradigm from most robots. It is command based; you type a command and see immediate action. Programming is a building block approach, building confidence as you program in small 'mind-sized bytes'. ST offers free unlimited technical support.