Microscan Demonstrates Barcode Verification and Print Quality Inspection at PACK/PHARMA EXPO 2016
Pack Expo attendees will experience a comprehensive range of custom and standard model Texwrap shrink wrapping and Tekkra bundling solutions located in a combined booth exhibit. (Shrink Systems Booth Texwrap and Tekkra #S-3748)
The Fanuc LR Mate 200iD is a 6-axis articulated robot featuring fenceless technology which safely monitors the position or speed of the robot and shuts down motor power when the defined safety parameters are exceeded.
Pioneer of collaborative robots showcases new cobot-assisted, mobile packaging applications featuring vision-guided kitting and parts inspection.
In-booth demonstration to feature automated solutions designed to handle broad array of products, packaging types
Marlen International, Inc., a recognized global manufacturer of highly engineered food processing equipment and systems, plans to launch its next generation vacuum stuffer - the OptiServ 400 - at this year's PACK EXPO International.
Award-winning packing automation system will be showcased at ProShip Booth #9805
Motion Controls Robotics will be in the thick of things at Pack Expo 2016 (booth N-4946). Stop by the booth to spot Know Nos of Case Packing and Palletizing.
Records 16 to 23 of 23
Featured Product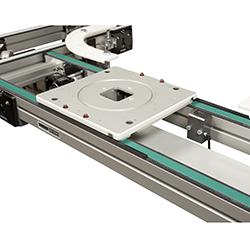 Dorner's 2200 Series Precision Move Pallet Systems feature the latest advancements in pallet traffic management. A unique pin tracking system guides pallets through merges and curves while maintaining product orientation. The fast belt change capability increases efficiency and reduces downtime in assembly automation processes. They are available in lengths up to 25 ft., can handle loads up to 500 lbs. and travel at speeds up to 114 ft/min.