Designatronics is a leader in comprehensive mechanical solutions for critical motion control applications. Designatronics will be showing a variety of custom parts, standard components and assemblies used in unmanned systems on land, sea and air.
Association for Unmanned Vehicle Systems International (AUVSI) Unmanned Systems 2015 Conference and Tradeshow in Atlanta, GA May 4-7, 2015
Records 16 to 17 of 17
Featured Product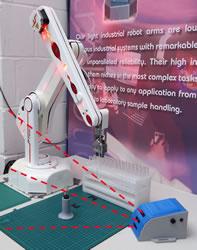 The 6-axis version of the R17HS high speed variant of the R17 robot is now available. As is our policy the 6th axis is an optional bolt-on module. At the same time we have made it even faster and new software eliminates shake and greatly improves repeatability as this video shows. Please see https://www.youtube.com/watch?v=3wG0MeiJ-yE. The video would seem to imply a repeatability of 0.01mm but we are sticking with 0.2mm in the spec. The motor specialist was able to tune the motors from the other side of the pond. My first reaction when we put power on and entered the first commands was to jump back in amazement (and maybe an expletive). Tip speed is now 3m/s; that's 3 times as fast as its nearest competitor yet costs half the price. I love it when a plan comes together.