Offering safety- and mission-critical engineering, meteorological modeling, C2, and mission support for unmanned applications.
Aug. 12-15 at the Walter E. Washington Convention Center
Quadrant Engineering Plastic Products (EPP), the global leader of machinable plastics and composites, visits the AUVSI (Association for Unmanned Vehicle Systems International) Unmanned Systems 2013 trade show on August 12-15, 2013 with its innovative family of Materials and expert Application Specialists for the Unmanned Systems industry.
Washington, D.C. from 12-15 August
Phoenix Aerial Systems successfully demonstrates UAV LiDAR technology by scanning the SD Chargers Football Stadium.
The IMU-10 is the perfect solution for inertial navigation applications requiring absolute accuracy and high performance
- Quartz MEMS-based IMUs Reach New Performance Levels -
-- Deposition Sciences will present ruggedized optical coatings for unmanned systems in booth #3053 at AUVSI (Washington, D. C.), August 13 - 15, 2013. To view DSI's online press kit, please go to: http://www.virtualpressoffice.com/kit/kg7m
Very High Efficiency and Lightweight Solar Material Provides Unmatched Power to Weight Ratio
AUVSI Unmanned Systems Conference in Washington D.C. on August 12-15th at booth 3043
Records 31 to 42 of 42
Featured Product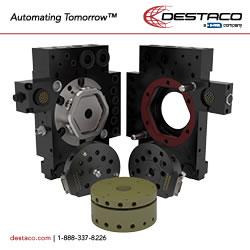 The Accelerate Collection is a range of products designed to help stamping press operators speed up their production lines with higher efficiencies. Working with our customers helped to bring innovative new products to the market, which in turn helps them produce more stamped parts per hour, while reducing moment forces and overall system wear and tear. Accelerate Collection products include Lightweight Tooling, Polyurethane Vacuum Cups, Sheet Metal Grippers, Plastic Proximity Switch Mounts, and new Digital Solutions.