The maxon X drives family of configurable products is growing. Like all motors in the DCX series, these brushed DC motors feature high power density and low vibration. In addition to the technical highlights, the program's appeal lies in the configuration options.
Lead by the Academy of Model Aeronautics and Association for Unmanned Vehicle Systems International, manned and unmanned aviation communities come together to advocate for regulatory framework.
Kratos Defense & Security Solutions, Inc., a leading National Security Solutions provider, announced today that its Micro Systems, Inc. subsidiary, of its Advanced Drones and Target Systems Division, recently received a contract from the U.S. Army valued at $4 million to produce unmanned aerial drone command and control systems.
Company to continue mentoring Dickson College students
The APE 2000 can complete most jobs in just a fraction of the time required by a typical robotic total station and is the first of its kind that does not require a "line of sight."
The Neya Systems UCS Software Developer Kit (UxSDK™ for UCS) reduces the startup investment and ongoing costs of developing and validating application software for the Department of Defense UCS Architecture and UCS Repository. The SDK is compliant with UCS Architecture Release 3.0 and beyond.
a2z, Inc., the event management and marketing software solutions company, announces that the Association for Unmanned Vehicle Systems International (AUVSI) will employ the ChirpE Attendee Acquisition Widget solution from a2z to empower its exhibitors in promoting the upcoming event, AUVSI's Unmanned Systems 2014.
Records 46 to 52 of 52
Featured Product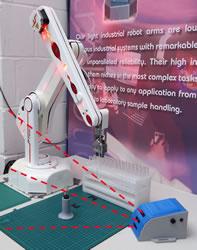 ST Robotics have decades of experience in industrial robots having sold hundreds of robots over the years. The company has 3 main models, R12, R17 and R19 all using a unique simple industrial technology that dramatically reduces costs resulting in the lowest priced industrial robots available. The same uncomplicated technology vastly improves reliability. ST backs this up with a 2 year warranty. Typical applications are routine testing, sample handling and also education. The software is a different paradigm from most robots. It is command based; you type a command and see immediate action. Programming is a building block approach, building confidence as you program in small 'mind-sized bytes'. ST offers free unlimited technical support.