The Micro raced past its $50,000 goal in just 11 minutes and hit the $1 million mark in 25 hours, faster than the Pebble watch, which took 28 hours.
MotherBone™PiOne™ is a peripheral motherboard for BeagleBone Black & Raspberry Pi providing safe I/O expansion for Linux control systems
$299 first consumer 3D printer on course to overtake Oculus Rift in crowdfunding race
M3D smashes $50,000 target to bring 3D printing to widespread consumer market.
Kickstarter is a unique way for high school robotics programs to raise awareness and funds.
Sky Drone FPV is the world's first and only AES-256 encrypted digital, high definition drone video transfer system that operates on 3G & 4G/LTE networks.
Roboteq launches a kickstarter project aimed at creating an amazingly powerful Robot Navigation Computer for its low price and size, and targetting applications in sea, land or airborne unmanned robotics vehicles applications, as well as in more traditional automation and machine control systems
Coral ecosystems support around 500,000,000 people, but are severely threatened; the Coralbots team aim to revolutionize how such threats are tackled. Their Kickstarter campaign (closing May 26th) seeks individuals and corporations who wish to make a lasting positive impact on the marine environment, offering ways for individuals, schools and corporations to be directly involved.
Simworx may be the first simulator company to offer a DIY version of their production level 360 degrees rotation flight simulator to the DIY community, as an Open Source project. Simworx introduces the funding campaign on indiegogo.com to develop the CAD drawings,Plans, engingeering study, jigs, and component intergration for both versions of VR Cockpit with full step by step instructions for Do-it-yourself plans or Kit building the 360 rotation full motion flight simulator.
Records 76 to 84 of 84
Featured Product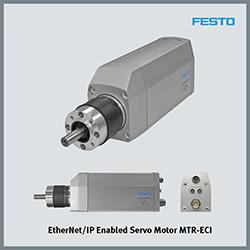 Mechatronic Motion Solutions from Festo is a unique system of components, modules, and software. It integrates all types of pneumatic, servopneumatic and (electro)mechanical automation motion and combines them according to your task. Irrespective of the control system environment you use, Mechatronic Motion Solutions always provides the appropriate interfaces. The fingers can be actively moved and their strength amplified; the operator's hand movements are registered and transmitted to the robotic hand in real time. The objectives are to enhance the strength and endurance of the human hand, to extend humans' scope of action and to secure them an independent lifestyle even at an advanced age.