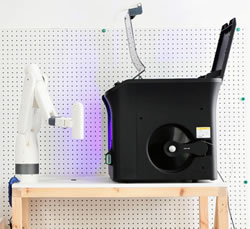 Suryansh Chandra claims the affordable robotic arm his company Automata is developing could lead to robots becoming as ubiquitous as desktop 3D printers.
"Today, every design studio has a 3D printer," Chandra says. "Soon, we hope to get to the point where every design studio has a robotic arm."
Chandra founded Automata together with Mostafa Elsayed five months ago, after they became frustrated by the expense and complexity of industrial robots while working at the research division at Zaha Hadid Architects.
"If you're out to get a robot today, you'd have to spend 50 or 60 thousand dollars," Chandra explains. "Our goal is to democratise robotics through a low cost hardware platform and easy to use software."
Automata's first product is a plastic six-axis robotic arm called Eva, which weighs 2.3 kilograms and will cost $3,000 (£2,000).
"Unlike industrial robots that are heavy and expensive, Eva is low cost and lightweight," Chandra says. "She can pick up 750 grams when fully outstretched and about a kilogram in a more recessed position." Cont'd...
Easy Creation Process Brings Holographic Imaging to AEC Community
Records 1 to 2 of 2
Featured Product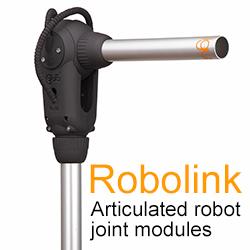 Robolink: Articulated joint modules for robots. igus® now offers a lightweight, maintenance- and corrosion-free range of robot joints for humanoid systems or other automated applications. The carbon-fiber plastic joints can rotate and oscillate freely via four wire ropes. No more expensive milling, cutting or DIY systems. Moving mass is reduced to a minimum. The actuators (engines, pneumatics and hydraulics) and the control module (DP, PC) are kept separate. Contact igus® for more information and free samples.