From Festo Bionic:
With the bionic butterflies, for the first time Festo combines the ultralight construction of artificial insects with collision-free flying behaviour in a collective. For coordination purposes, the eMotionButterflies make use of a guidance and monitoring system, which could be used in the networked factory of the future... (additional info)
Like their natural role models, the BionicANTs work together under clear rules. They communicate with each other and coordinate their actions and movements among each other. The artificial ants thus demonstrate how autonomous individual components can solve a complex task together working as an overall networked system... (additional info)
Records 1 to 1 of 1
Featured Product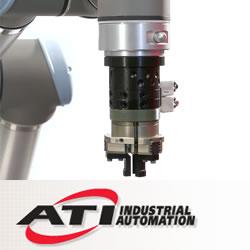 The ATI Robotic Tool Changer provides the flexibility to automatically change end-effectors or other peripheral tooling. These tool changers are designed to function reliably for millions of cycles at rated load while maintaining extremely high repeatability. For this reason, the ATI Tool Changer has become the number-one tool changer of choice around the world. ATI Tool Changer models cover a wide range of applications, from very small payloads to heavy payload applications requiring significantly large moment capacity.